Indigeny Reserve Adds Products, Accolades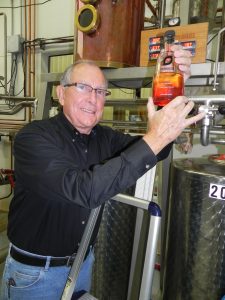 Indigeny's Jay Watson with Apple Brandy bottle

View Photos
Sonora, CA – Although fully open to the public only since early 2012, Sonora-based Indigeny Reserve already ranks as one of the Mother Lode's top tourist attractions, according to top consumer review sites TripAdvisor and Yelp, and shortly plans to bring even more products to market. The success of Indigeny Reserve has been a homegrown success story in the Mother Lode.
Formerly an owner-operator of a San Francisco area communications business, Indigeny Reserve founder and patriarch Jay Watson often greets visitors to the property, which is open to the public for tours and tasting Monday through Wednesday, from 10 a.m. until 4 p.m.; Thursday through Sunday until 5 p.m.
According to Watson, the ranch harvested almost 300,000 pounds of apples this season, which came two to three weeks early because of this year's warmer weather. Due to three deep wells on the property, the drought has not yet been a factor, he says.
Heading Towards The Million Mark
In the cidery, where staff and son Joe (the orchard manager, cider maker and chief lab tech) do all the processing, is also where this year's just-picked crop now rests at 34 degrees in 4,000 square feet of new cold storage. Stacked four to five fruit bins high, the yield represents some seven months worth of primary ingredients.
Watson points out a huge storage wall of palleted aluminum Indigeny Reserve bottles, waiting to be filled. He notes with quiet pride that the 12-ounce aluminum package just won an international design award in Japan and says that plans are on track for the operation to triple its cider production and sales – to nearly a million bottles — by the end of 2015.
Now available in stores, bars and restaurants from Sonora to Modesto and Livermore, the production hike, Watson says, will to help meet existing demand for its hard cider within the region and expand its base closer towards the Bay Area.
Next to market, Watson says, is the company's new line of infused vodkas, made from distilled apple and additionally purchased vodkas, all triple-distilled. He expects the first two flavors, fig and apricot, to hit local supermarkets and liquor stores sometime within the next two months.
"You will be able to taste it here but we cannot sell it [at the tasting room]…due to state liquor laws," Watson explains. "So, we will go through a distributor and sell through local supermarkets." Although a price has not yet been set, Watson says that it will probably run between $22 and $25, a similar price point to other artisan vodkas such as the popular Tito Handmade Vodka.
Hard Cider Making = Happy Cows?
He explains the initial apple pressing process: "We press for two and a half hours. At the end of it get one and a half bins of [apple] pulp from seven bins," Watson says, "which is not wasted. It goes to a local cattle ranch — the same day they pick it up…it reduces any flies we have here…we have very happy cows and that same beef is sold at Hurst Ranch on Hwy 108."
The press, which can process seven bins (3.5 tons) of fruit at a time, extracts over 85% of the juice from the apples. Already, full 5000-gallon jacketed tanks are chilling with new hard cider product from the recent harvest. Wild and additionally added champagne yeast ferments the cider. Once this step is complete, the cider is filtered carbon dioxide is then added to create the bubbles, and it is ready for bottling. The whole process takes about seven weeks, according to Watson.
The organic orchards and rustic building that contains the tasting room, gift shop, cidery and distillery building reflects the company's sustainable, hands-on approach. Constructed using harvested and re-purposed cedar and oak wood, milled on-site, the building reflects a distinctive artisan look, from its wood-plank ceilings and beam work, down to the cidery's double-doors of wood and hand-forged iron.
At a long tasting counter that greets visitors, a number of hard ciders are on tap for tasters 21 and over.
Visitors can taste and purchase the brand's certified organic oak-aged apple brandy, which was initially released in 2013, when the Watsons' first production was ready for market. The brandy comes in distinctive light gold and red 750-ml brandy bottles of modern design.
Interested visitors can see the brandy production part of the operation, which includes a distilling room with a double-pot copper still and the aging room, where the brandy sits for four years in 55-gallon American oak aging barrels.
A Heart For Promoting Local Art, Artisan Foods
Tasting room and gift shop manager Cassie Hard does a brisk business selling the company's libations while curating an impressive merchandise display that represents 45 California artists and artisan food producers, most of them from Tuolumne and Calaveras counties. "A lot of people come in and get the organic cider. This is the only place you can get [it]," Hard says. "People fill up their growlers here. Also a lot of locals will come in here to go shopping for gifts, presents and items that you can't find anywhere else."
Within the cheery-charm of the gift shop are displays of artisan food offerings, such as locally produced honey, olive oil, nuts and cooking sauces. Gift and décor items run the gambit from local paintings, soapstone sculpture and hand-built ceramics, to functional art yarn works, knitwear and handmade jewelry. "Last week we sold a hundred dollars-worth of just bottle openers, hand forged from local Columbia and Twain Harte blacksmiths," Hard states.
Retired general contractor John Minor's one-of-a-kind hand-built salvage wood birdhouses are a hit, according to Hard, which sell from about $22-$79. Family members' talents are also in the mix: paintings and jewelry by daughter-in-law Corey West Watson; woodwork and furniture from Ben Watson, who additionally does cider development and mechanical work on operational equipment. Wife and matriarch Judy Watson, an author, currently has two children's books for sale in the gift shop.
The family's primary home, up on Cedar Ridge, is adjacent to an 80-acre apple ranch that became the nexus to their business, according to Jay. He and Judy purchased the orchards in 2008, rather than see the property developed into home sites. Some of the apple trees there date back to the early 1900s and 51 varieties are now present, including 1,700 Honeycrisps, a super-premium eating apple, planted by the Watsons five years ago. After spending three years, transitioning into an organic operation, the couple found that approximately half of the apples were not salable.
"That's how we got into hard cider," Watson chuckles. "Once we got into hard cider, began to blend it, we found that we had leftover product, and that's how we got into brandy and vodka."
Apples And More Apples
When the 160-acre apple ranch [on Summers Lane] became available, they purchased it, with an equal eye on its location, closer to town and therefore easier for folks to visit. It took the Watsons three years to prune the trees, some of them 30-years-old, and bring them into an organic operation.
Current plantings include 20,000 Granny Smiths (used in Indigeny Reserve's Crisp hard cider), 400 Red Rome and 7,000 Honeycrisp apples. Watson says that future expansion plans might include further developing their upper ranch.
The Honeycrisp apples, although used by some hard cider operations, are an earlier ripener known for its delicious taste, when eaten raw. Watson explains, "I first tried the variety at a health food store in Truckee and fell in love with it." Although they sell their organic version at the tasting room for $3 a pound, non-organic Honeycrisps often command prices well over that at local supermarkets.
In addition to the tasting room, cidery, distillery and gift shop, the Watsons have developed the 160-acre Summers Lane property into a preserve for visitors to enjoy, complete with a park-like setting, tree-lined paths, a covered bridge, picnic grounds and two mile-and-a-half hiking trails; one of them, passes by an old mine and offers Phoenix Lake views.
The Watsons regularly host car clubs and other organizations that come in to use the picnic areas. "We do a corn maze in October and grow pumpkins and sell them to public," Watson states. They plan to hold other events in the future, such as cooking classes and book readings.
The family also donates temporary use of the property for community gardens. Last year, a church grew potatoes. Summerville High School students planted garden on the premises before the school established its own and Watson says he is open for other schools who might want to use a half acre for a community garden project to "just give him a call."
For more information about  Indigeny Reserve, click here (note: to browse the site, viewers must then click-to-verify that they are at least 21 years of age).