2017 Round-Up Queen
2017 Mother Lode Round-Up Queen - Mary MacKenzie Suess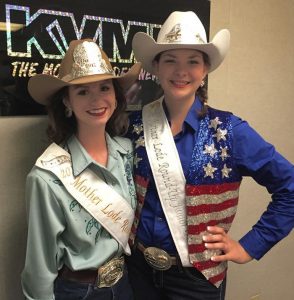 Mary MacKenzie Suess was crowned the 2017 Mother Lode Round-Up Queen. On Sunday Night, Suess also won the Horsemanship Award, Photogenic Award, High Ticket Sales Award, Appearance Award, Congeniality Award and the Written Test Award.
Suess has participated in every Mother Lode Round-Up Parade since she was four years old. "I was being pulled in a little red wagon in that first one. I've been in the Round-Up Parade each year, for a variety of reasons, ever since", said Suess.
Suess said that her parents have been the most supportive people throughout this competition. She has three older brothers, one of whom is in the Tuolumne County Sheriff's Posse. Suess added, "He and I got to walk the night of Coronation together. It was a special moment going on stage with him." Suess also has an eighteen year old American Quarter Horse named Tess.
Currently attending Columbia College, Suess said that she is working towards her Associates in Business Administration with a focus on Accounting. Eventually, she would like to attend Feather River College and further her education with a Bachelor of Science Degree in Equine and Ranch Management.
The first runner-up was Taylor Mossa who won the Peoples Choice Award, Speech Award and Interview Award.
Kaitlyn Rumsey, 15, of Sonora, is the Mother Lode Round-Up Jr. Queen, she also received an award for High Ticket Sales. She is the daughter of Jody and David Rumsey and is a sophomore at Sonora High School. She has six horses, an older brother, an older sister and two younger sisters.
Rumsey is a member of the Sonora High Golden Regiment Band and enjoys riding horses and competing in trail trials, trail challenges, cowboy racing and cowboy challenges. She's a member of the California State Horsemen's Association and Back Country Horsemen Mid Valley Unit. Her future plans include attending University of California, Davis, to become a veterinarian.
Runner-Up Junior Queen was Ginna Hahn, won awards for Appearance, Horesmanship and Interview.
The coronation ceremony for Mother Lode Roundup Queen and Junior Queen was held during the 60th Anniversary Celebration on May 7 at the Mother Lode Fairgrounds.