Mother Lode Round-Up Queen
2023 Mother Lode Roundup Queen Ginna Hahn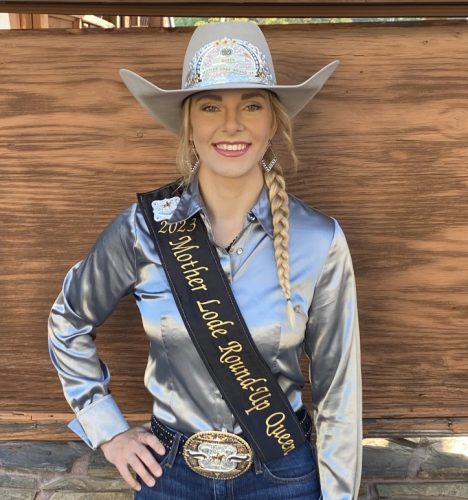 Ginna Hahn was born and raised in Sonora and attended Mother Lode Adventist Junior Academy through 10th grade. She then moved on to Sonora High School, where she graduated in 2020. She now works in the construction industry as a carpenter and certified welder with Boyer Construction.
Hahn says, "It has been a dream of mine for a long time. It almost doesn't feel real. I have grown up with the Posse, and have been with the Posse ever since I was born."
Hahn says the most challenging aspects of the competition were the speech, one-on-one interview, and the on-stage elements. There was also a horsemanship competition and selling the most pre-rodeo tickets.
2023 first runner-up was KaeLee Gates, and the second runner-up was Tommi Cover.
Pictured below: Contestant KaeLee Gates, Opal Cahoon, 2022 Rodeo Queen Kaitlyn Rumsey, contestant Tommi Cover and Ginna Hahn.