People That Make It Happen
Grand Marshal 2022 - Bob Brennan

Coy Huffman and Jody Carper – Professional rodeo announcers play a major role in connecting the audience to the action. It takes a unique individual to acquaint the fans with the cowboys, the stock and rodeo itself. Coy Huffman has just the right touch to excite and to get you involved.
Coy has worked all phases of rodeo from behind the chutes to out in front earning a "Gold Card" (lifetime membership) in the Professional Rodeo Cowboys Association.
A few years ago Coy began to pursue his life long vision of being a pro-rodeo announcer. Facing many challenges in a highly competitive field, Coy worked the rodeo labor list as chute boss at Cheyenne, Salinas, Dodge City, Colorado Springs, the Cow Palace and Sonora. He took advantage of opportunities to announce or emcee autograph parties, Exceptional Rodeo, high school rodeos and other events.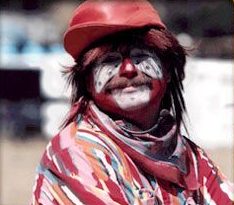 Bert Davis – Forty-three years as a rodeo performer. Rodeo bullfighter at age 16 (1974), working with senior clowns/bullfighters, then performing as a clown and bullfighter alone culminating as an award winning Comedy Barrel Clown and Specialty Act utilizing animal and comedy routines working rodeos, bull ridings, and special events in Forty-Five States, Five Canadian Provinces, and Australia.