2011 Round-Up Queen
2011 Mother Lode Round-Up Queen - ``Cat`` Gulizea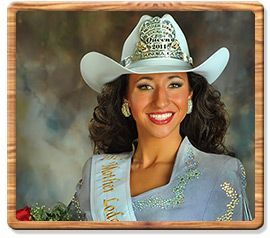 "Cat" Gulizea, of Arnold, is a sophomore at Feather River College where she plans to graduate this spring with associate degree of science in equine studies and agricultural business. She has been barrel racing for Feather River College for one year. With her two degrees, she hopes to transfer to Fresno State University to earn a bachelor of science degree in animal science with an emphasis on equine studies, then possibly enter the field of equine dentistry.
Cat was the second runner up in the 2011 California Cowboys Professional Rodeo Association queen contest, winning the photogenic, congeniality and appearance competitions; was 2009 Calaveras County Saddle Queen, 2009 Bret Harte Homecoming Princess, 2009, Italia Scholarship winner, second place in Bret Harte High School's 2009 Pencil Art show, 2006 Bret Harte Freshman Princess.
Cat said several past Roundup queens have been her inspiration since she entered the Calaveras County Saddle Queen competition, and she would like to help and inspire others in the same way.
"I believe it is our responsibility to keep traditions alive," she said, "and I feel it is my obligation to run. It's more than a pageant to me, it's a rite of passage. It has been my dream to participate and to walk in the boots of those who have gone before me."
Congratulations Cat! It will be a busy year and one you will never forget.