2010 to 2003 Round-Up Queen
2010 Mother Lode Round-Up Queen – Kendra Brennan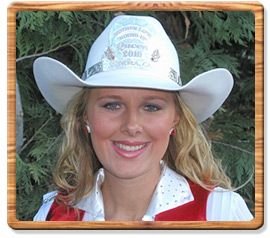 Kendra is currently a freshman at Westhills Community College with plans to complete her general education and transfer to Cal Poly San Luis Obispo and obtain a Bachelor of Science degree in Range Management and a minor in Political Science.
Kendra plans to work on the ranch and pursue a law degree from McGeorge School of Law and become an advocate for property rights on both public and private property.
She plans to take full advantage of "many great learning experiences" this contest has offered her. "I know I will always be an ambassador for rodeo, I am lucky to have a life you can hang your hat on." She dreams of bright rodeo arena lights and remembers "Tomorrow's rodeo legends are born today."
As a Sonora High Wildcat Brennan was a FFA Sectional Vice President and placed in several FFA Contests. She was the Round Robin Champion at Mother Lode Fair and has placed in several public speaking competitions. She would like to thank; "the Posse Men and their Wives for all their hard work, which makes this contest possible and for putting on the best rodeo this side of the Sierra Nevada's".
2009 Mother Lode Round-Up Queen – Ariel Diggan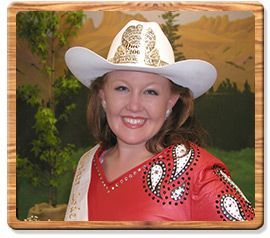 Let's hear it for Ariel Diggan, the 2009 Mother Lode Round-Up Queen!
Ariel grew up around the Mother Lode Round Up. She has marched and rode in the parade before and now is a part of the Posse Family. Ariel's horse Junior (Dr. Tommy) finished first in horsemenship. There were two reigning patterns, a flag run, a salute run and the barrel run.
The soon to be nineteen year old (her birthday is May 10th) also took first in congeniality, most photogenic, and highest ticket sales.
Ariel graduated Sonora High School in 2008 and will complete the ROP Cosmetology program in June. One day she wants to manage a livestock breeding program at a large ranch.
"It's been very stressful and totally worth it," says Diggan. "It has been so much fun, and I've learned so much."
2008 Mother Lode Round-Up Queen – Jessica Haynie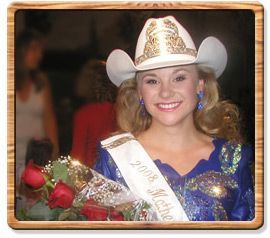 Let's hear it for Jessica Haynie, the 2008 Mother Lode Round-Up Queen!
Jessica has wanted to be the Mother Lode Round-Up Queen since watching the parade as a little girl. She was the 2006-2007 California Gymkhana Association Queen and she is active at the local and state levels of 4-H and Gymkhana.
The Jamestown area resident is a self-confessed "tomboy" who will graduate from Tioga High School. Following her graduation she'll pack her bags and head for U.C. Davis where she will major in dramatic arts and hopefully minor in interior design. She also plans to compete on the equestrian team.
This is her second year competing in the Mother Lode Round-Up, Haynie prepared by practicing her riding every day and working on what she feels is her greatest weakness; public speaking.
2007 Mother Lode Round-Up Queen Katie Mae Broderick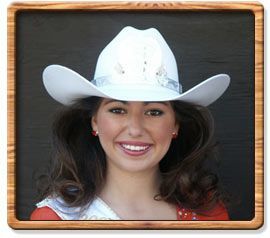 Lets hear it for Katie Mae Broderick, The 2007 Mother Lode Round Up Queen! Katie is currently a junior at Sonora High School. Katie and her horse "Too Much" have been competitors in the cutting horse arena for 6 years and last year she won the Year End Champion Buckle for Cutting competition. Katie is big on Community Service and is very active in 4-H. She's pretty handy on the range too, helping friends gather cattle in the Spring and Fall round ups. "It would be an honor to serve as Queen and celebrate our 50th Anniversary Round-Up and share my love of Rodeo with everyone, especially other young people".
When Katie's not on horse back, she loves playing the piano and singing. She's a strong student too earning the Presidential Academic Achievement Award for scholastic achievement.
2006 Mother Lode Round-Up Queen Katie Mae Broderick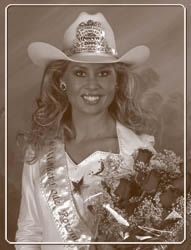 Drew is 18 years old and a Sonora High School senior. Drew is the daughter of Nancy Drews and Brian Kermeen, and she has one brother, Devin. She plans to attend Columbia Junior College in the fall.
No one could have described the honor of being Mother Lode Round-Up Queen better than Drew herself. "I ran for this year's Mother Lode Round-Up Queen, because it has always been a dream and aspiration of mine to follow in the footsteps of the past queens whom I have always looked up to. I also believe that life has little meaning unless you follow your dreams and work hard to achieve them. Nearly ten years ago, I can remember promising my horse, Dusty, that some day we would run around the arena at the Round-Up, saluting to all the people and wear the crown that represents all of our hopes and dreams. I have been a resident of Tuolumne County my entire life and would be honored to represent the Mother Lode, Sheriff's Posse and the county in which I have enjoyed growing up."
2005 Mother Lode Round-Up Queen Kim Silva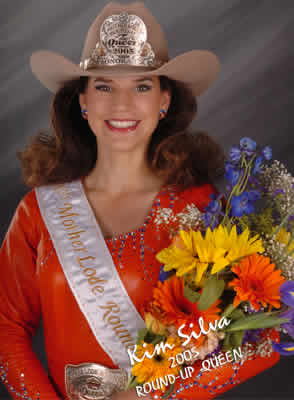 Kim Silva is our Mother Lode Round Up Queen for 2005. A Sonora High School Graduate, Kim attended Columbia College and plans to finish her associate of science degree in the Modesto Junior College dental hygiene program.
2004 Mother Lode Round-Up Queen – Meagon Middleton
Miss Meagon Middleton is our 2004 Mother Lode Round-Up Queen. She's sure got some determination! Having sold candy bars to earn her first horse, she had always dreamed of becoming the Mother Lode Round-Up Queen.
2003 Mother Lode Round-Up Queen – Caitlyn Smith
Summerville High School student Caitlyn Smith is this year's Mother Lode Round-Up Queen. Smith, Mallory Wallace and Valerie Lagattuta competed.