Update: Power Outage In Tuolumne County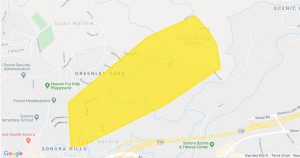 Power outage in Sonora area

View Photo
Update at 12:20 p.m.: The power has been restored to just under half of the 91 original PG&E customers that lost electricity this morning stretching from East Sonora to Quail Ridge Ranch. The company reports that 52 still remain without lights along High Meadow Drive and Cabezut and Chaparral roads. The company has not released a cause yet but crews are at the scene of the outage.
The estimated time of repair for the remaining customers has been pushed back to sometime in the five o'clock hour.
Original post at 8:45 a.m.: Sonora, CA – PG&E is reporting a power outage in the East Sonora area of Tuolumne County.
The area impacted stretches from Sonora Hills to Quail Ridge Ranch and north of Highway 108. The utility relays that 91 customers spanning from High Meadow Drive to Cabezut Road and along Beckwith Circle down to Cedar Road are without lights. The power went out around 8 a.m. when a resident in the 19600 block of Cedar Road reported to Sonora Police that they heard a loud bang in the area that sounded like an explosion.
PG&E has not determined a cause yet as crews are heading to the area. The company has posted an 11:30 a.m. estimated restoration time.