Update: Latest On Possibility Of PG&E Planned Power Outages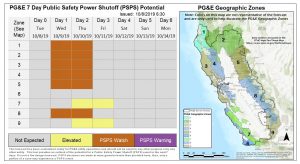 Tuesday Morning PG&E Power Outage Information

View Photo
Update at 6:30pm: When it comes to government offices in Tuolumne County, the current plan is to continue most county services even if they are limited in scope. The Office of Emergency Services reports that the county's Veteran's Services and all branches of the Tuolumne County Library will be closed. Behavioral Health will be closed except for the Crisis Unit which will be run out of Adventist Health Sonora.  Animal Control, County Fire, Administration Departments and the Sheriff's Office will all operate from their normal locations.
The Tuolumne County Senior Center and Meals on Wheels will also be closed.
Before heading out to your destination over the next few days you may want to call ahead of time to ensure it is open.
Check back for updates on myMotherLode.com, and keep it tuned to AM 1450 and FM 102.7 KVML, Star 92.7 and 93.5 KKBN during the upcoming power outages.
Update 6pm: Tuolumne County Office of Emergency Services Coordinator Liz Peterson reports that power will be shut off by PG&E at noon on Wednesday in the county.
It will be 12 hours after Calaveras loses power, which we reported earlier will be at this coming midnight.
Update at 5:09pm: OES officials are providing their latest information regarding the Public Safety Power Shutoff (PSPS).
Calaveras County OES Director John Osbourn confirms that PG&E plans to de-energize portions of Calaveras County at about midnight tonight. He adds that as the situation continues to evolve, further information will follow as it is developed.
PG&E's Community Resource Center (CRC) in Calaveras County is finalizing the hour and locations of local Resiliency Centers in several locations. Beginning tomorrow at 8 a.m. a center will open at Meadowmont Shopping Center (2182 Highway 4) in Arnold. Hours will run from 8 a.m. until 6 p.m.
Update at 4:28pm: If you are having issues placing phone calls, it is not just you.
Tuolumne County Sheriff's officials confirm that local agencies are experiencing technical difficulties with incoming calls. Please use the following alternate numbers to contact TCSO:
209 768-0934 and 209-768-3666.
Sonora Police Department and some other local services are also experiencing technical difficulties with incoming calls, according to Chief Turu VanderWiel. He says AT&T is working to identify the issue and in the meantime, please use these alternate numbers to contact the Police Department: 209 454-7933 and 209 454-9024.
In some instances, the chief reports that landline calls have been more successful than cell phone calls, so please try that as well.
Update at 4:16pm: Tuolumne County Public Health officials are weighing in about the importance to be ready for you and your family to be without power for up to five days.
While an extreme weather event may only last a day or two, PG&E will have to check their equipment before restoring power following its Public Safety Power Shutoff (PSPS) and they may experience structural damage.
Ahead of the outage, officials urge you to create a safety plan for all members of your family, including kids and pets and prepare an emergency supply kit.
Keep mobile phones and other devices charged. If you have a generator, make sure it's ready to operate safely.
Have flashlights with fresh batteries available and a battery-operated radio, ready to tune into local stations such as 1450 AM/FM 102.7 KVML as well as 93.5 KKBN and Star 92.7.
Make sure your vehicle has a full tank of gas and keep some cash on hand. Gas stations and ATMs may not be working in a power outage. Learn how to manually open your garage door or other doors that operate with electricity. Check on your neighbors.
PG&E will be opening a Community Resource Center starting Wednesday, beginning at 8 a.m. that will offer air conditioning, water, resources, and charging stations for small electronic and medical devices. The center will be located at the Motherlode Fairgrounds (220 Southgate Ave.) in Sonora. It will operate daily from 8 a.m. until 6 p.m.
The Groveland Community Services District (GCSD) will also be establishing a Community Resource Center, offering internet access, charging stations, and up-to-date information on the power outage. The center will be located outside the GCSD office (18966 Ferretti Rd.) in Groveland during regular business hours.
If you or someone in your household has specific medical needs or is dependent on electricity for a medical device, it is critical that you have a plan in place for an extended power outage. Your plan should include the following: emergency phone numbers; at least a five-day supply of any medications and way for keeping them at proper temperature; a backup location where you can go if needed (a friend, relative, or other location). Make sure PG&E is aware of your medical device. Sign up for PG&E's Medical Baseline program for early notifications and consider a safe backup power source, such as a generator or uninterruptible power supply. Establish multiple people you can contact for help who know how to operate your equipment and backup systems.
Update at 4:05pm — Clarke Broadcasting has received queries asking if myMotherlode.com and its radio stations AM1450/FM 102.7 KVML, 93.5 KKBN and Star 92.7 have backup generators and will be operating during the planned power outage. The answer is: YES.
During high volume call times, incoming calls to CBC at 209 533-1450 may not always go through. Please keep checking our story postings and updates and tune into the radio stations for the latest available information.
Update at 3:30pm: Clarke Broadcasting is awaiting another OES update regarding the impending Public Safety Power Shutoff (PSPS).
Calaveras Public Health Division has sent word that it will be opening an Access Functional Needs (AFN) shelter to provide an environment with electricity to assist the population with durable medical devices required to maintain life.
They emphasize that AFN individuals with electrified durable medical equipment i.e., ventilators, oxygen generators, and their one caregiver may be permitted access to the shelter, which will locate at Mountain Oaks High School (150 Old Oak Road) in San Andreas.
The shelter will open at 5 p.m. Friday, Oct. 11 and operate for the duration of the PSPS. Anyone with questions regarding eligibility for shelter access should call 209 286-9058. Calaveras Public Health Division will be closed for the duration of the PSPS.
Public health officials urge residents who have not already done so to prepare for the power shutdown.
Update at 1:15pm: PG&E has made the decision to move forward with its plan to cut power to the Mother Lode.
According to Tuolumne County OES Coordinator Liz Peterson, PG&E is currently notifying their customers of a Public Safety Power Shutoff (PSPS) event. The overall customer impact for this PSPS has increased to about 750,000.
Peterson says there is still no definitive word on when we should expect de-energization. As she shared with Clarke Broadcasting previously, the area could be in Phase 2 with de-energization at noon Wednesday. But there is a chance we would be included in Phase 1, which would take place at midnight tonight.
PG&E will have that information by this afternoon and we will let you know as soon as the word comes in.
Peterson notes that cellular communications should still be intact throughout the duration of the PSPS unless there is damage from the winds.
The CHP is reminding folks to fill up their vehicles' gas tanks before Wednesday morning. Officials add that In the event of a PSPS, most of the traffic lights have battery backups that will last for a time and send the signals into a flashing red pattern. When this occurs motorists should treat intersections as a four-way stop and behave accordingly.
BJ Hansen posted these earlier updates.
Update at 11:05am: Preparing for a likely planned power shutdown tomorrow morning, the Groveland Community Services District is planning to open a community resource center in the district's parking lot at 18966 Ferretti Road. It would be open during regular office hours (8am-4:30pm M-Th and 9am-4pm on Friday). It would allow residents to access internet, charge electronic devices and receive information about the outage.
It would be in addition to the earlier mentioned resource center at the Mother Lode Fairgrounds.
Update at 10:10am: A planned power outage in the Mother Lode is appearing more and more likely to occur, according to emergency responders.
Tuolumne County Office of Emergency Services Director Liz Peterson states, "PG&E's weather modeling is proving to be very accurate, meaning we should continue to expect the PSPS (Public Safety Power Shutoff) event to impact all Tuolumne County residents as planned. At this point, I am awaiting confirmation as to when PG&E will be turning off power but it will likely take place around noon on Wednesday (10/9/19)."
She adds, "PG&E has confirmed they will have a Community Resource Center (CRC) available starting tomorrow morning at 8:00am. This facility will have air conditioning, water, resources and the ability for individuals to charge their small electronic and medical devices. It will be located at the Motherlode Fairgrounds at 220 Southgate Ave in Sonora and open from 8am-6pm."
While the weather conditions may only pose a threat over two days, Peterson notes that residents should be prepared to be without electricity for up to five days. PG&E must go out and inspect the lines to make sure there is no damage following the projected high winds.
Update at 8:05 am: Water districts in Tuolumne and Calaveras counties are taking steps in the event that PG&E shuts off power tomorrow.
TUD spokesperson Lisa Westbrook says, "The District is taking proactive measures today including checking backup generators and filling all water storage tanks to capacity. If power is turned off, TUD will be asking all customers to conserve water and limit outdoor water usage until the power is restored." Backup generators are strategically being placed at various water treatment facilities.
The Groveland Community Services District notes that water will also remain on in the event of a planned power outage. Similar to TUD, if electricity is cut, the district asks that customers conserve water as much as possible and turn off any outdoor irrigation systems. You should also limit shower times and reduce laundry and dishwashing if possible.
The Calaveras County Water District also requests conservation in the event of an outage because it will help reduce the load on the district's back-up generators that power treated water and sewage pump stations during outages and lessens the negative impacts of possible generator failures. To ensure reliable water and sewer services for its 13,000 water and 5,000 sewer customers, the district has numerous backup generators installed at critical sites. While they are designed to limit the impact of an outage, there may still be times when service interruptions occur. It is recommended to have an emergency supply of drinking water available and minimize water usage to health and safety needs.
Original story posted at 7:15 am: Sonora, CA — Based on the current weather projections, PG&E is still looking at potentially turning off power to around 600,000 customers in the state due to likely high winds and low humidity levels.
PG&E Senior VP Michael Lewis calls it "one of the most severe dry wind events" they've seen in the state in recent years," and operation teams continue to actively monitor the situation.
He adds, "We want our customers to be aware that, based on this number, it could take several days to fully restore power after the weather passes and safety inspections are completed."
PG&E notes that the outage could impact 34,413 customers in Tuolumne County and 23,478 in Calaveras County. While the outage could impact up to 30 counties, Tuolumne and Calaveras are among the few in which it would primarily cover the entire area. For example, only 32,613 may lose power in larger areas like Alameda County, 32,017 in Santa Cruz County, 14,776 in San Mateo County, 1,088 in Stanislaus County and 52 in San Joaquin County. Among the smaller counties in the region, 16,041 could lose power in Amador County and 1,812 in Mariposa County,
This morning, the Tuolumne and Calaveras region remains under a "Watch" for a potential planned outage and no areas, statewide, have yet to be upgraded to "Warning" status.
Yesterday we reported the latest plans from the Tuolumne and Calaveras Office of Emergency Services, and how it could impact local schools. To read a detailed story published yesterday, click here.
We'll continue to pass along more information as it becomes available.
For the latest weather information from the National Weather Service, click here.