Deceased Driver Identified In Truck Vs. Pole Crash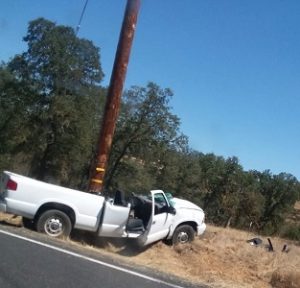 Pickup versus a power pole in Copperopolis

View Photo
Copperopolis, CA — The CHP has released the name of the person that died at the scene of a vehicle versus pole crash in Copperopolis yesterday.
The deceased is 47-year-old Benjamin Luther Beck of Copperopolis. The collision happened around 1:30 p.m. on Tuesday along Copper Cove Drive, off of O'Byrnes Ferry Road, as reported here yesterday.
CHP spokesperson Toby Butzler updates Beck was driving a GMC Sonoma pickup eastbound on Copper Cove, west of Acorn Street at an unknown speed when his truck went off the roadway. With no witnesses available to shed some light as to why his truck went off the roadway. It smashed into a power pole.
Despite emergency personnel administering CPR at the scene, Beck succumbed to his injuries. Butzler shares that alcohol and/or drug use is not suspected at this time, but an autopsy including a toxicology report will be conducted for a final determination.
No power lines came down and PG&E did not report any electrical outages in the area of the crash.