Angels Camp Police Dog Stays Active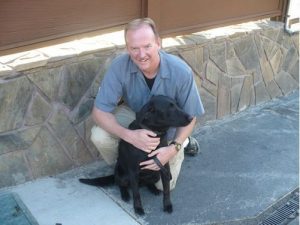 Todd Fordahl

View Photos
The one and only police canine in Calaveras County continues to find more and more work with each passing month. Turner is a narcotics detection canine and was Thursday's KVML "Newsmaker of the Day".
Of course, we couldn't quite understand Turner so we spoke with his human partner, Angels Camp Police Sergeant Todd Fordahl.
Fordahl explained that Turner is owned by the City of Angels Camp, works for the City Police Department and Fordahl himself is his assigned handler.  Fordahl and Turner both live and work together.
Turner is seven years old and has been certified for narcotics detection since 2005.
As both Angels Camp and Calaveras County continue to see the illegal drug problem gradually grow, so does the work load for Turner. Turner logs about eighty-four hours of work every two weeks.
Because Turner is the only police dog in Calaveras County, both he and Fordahl assist the Calaveras Sheriff's Dept, the Tuolumne Sheriff's Dept and makes demonstration appearances during special times such as Red Ribbon Week for the Sonora Police Department
When Turner is off duty, his varied hobbies include swimming in some of the area lakes, getting lots of exercise and chasing balls.
Fordahl reminds people that if you see the two of them walking down the street together, simply ask Fordahl first if you can pet Turner. Usually the answer is "yes."
Fordahl himself has been in law enforcement for the past fifteen years, spending the last eleven years working in Calaveras County.
The KVML "Newsmaker of the Day" is heard each weekday morning on AM 1450 KVML at 6:46, 7:46 and 8:46am
Written by mark@mlode.com