Update: Columbia Aircraft On Scene Of Gaines Fire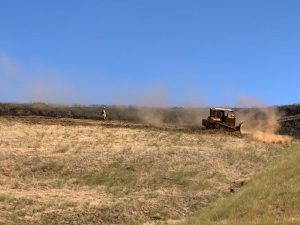 Gaines Fire buring in the Bear Valle

View Photos
Update at 7:30 p.m.: Fire crews have made progress on the Gaines Fire, burning in Mariposa County in the area of Mt. Gaines Road and Bear Valley Road. The latest size estimate is 1300 acres and five percent containment. It broke out just after one o'clock with Columbia aircraft assisting.
CAL Fire spokesperson David Schuerich details the strategy for fighting the fire overnight, stating, "As the temperature cools off and the humidity goes up hopefully the fire behavior reduces. Hopefully, we can get crews in here and really get those lines established so we can get that containment up."
Currently, 20 structures are threatened, but no damage has been reported. Further details on a fire advisements in the area are below.
Update at 5:15pm: The Gaines Fire is now 500 acres and there remains no containment. Details regarding fire advisements are below.
Update at 4:15pm: According to the Mariposa County Sheriff's Office, fire advisements have been issued for the Gaines Fire, reportedly around 400 acres.
The sheriff's office is stressing that the advisement is of a potential evacuation order should conditions change. It is for the following locations: Highway 49 between Bear Valley Road to Pendola Gardens; Bear Valley Road/Highway 49 to Hunters Valley Road; Pendola Gardens Road; Corbett Creek; Gold Dust Lane;
Old Toll from Hornitos to Pendola Gardens.
Officials add for anyone who does not feel safe, do not wait for a notification to evacuate. Motorists should avoid the fire area.
Update at 3:30pm: CAL Fire reports the Gaines Fire burning in Mariposa County is now 350 acres and there is no containment. Additional units are being called to the scene including a Charlie strike team.  Sheriff's officials report that no evacuations have been ordered at this time, although several structures are threatened.
Original post at 2:30pm: Mariposa County, CA — Columbia air resources are among multiple units dispatched to the Gaines Fire, burning in Mariposa County.
According to CAL Fire MMU unit officials, the Gaines Fire is located in the area of Mt. Gaines Road and Bear Valley Road in Bear Valley. It broke out just after one o'clock and is currently estimated at 200 acres with no containment. No word on the rate of spread yet although CAL Fire officials say there are some structures under threat. More units are being ordered to assist.
We will provide more details as they become available.