School Underway For Sonora High Wildcats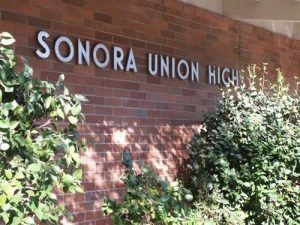 Sonora High School

View Photos
Sonora, CA — The 2009/10 school year officially opened Wednesday for Sonora High School.
Principal Todd Dearden admitted the classes were rather full but first day attendance was actually down as compared to a year ago. 1,250 student were on campus Wednesday. Last year on opening day there were 1,330 students on hand. Dearden thinks this year's enrollment will level off at 1,275.
The opening assembly was highlighted by an introduction of the Executive Board of the Associated Student Body. Board members focused on a number of activities planned for the year.
Dearden commented, "They all have classes, they all have chairs and off we go. We're planning on a great year. Everybody's concerned about the budget and the state of the state but dog gone it, school opened yesterday and kids went to class. Teachers are in a great mood. They're teaching, they're happy to be back. The kids are happy to be back … at least most of them. We're going well … we're excited."
Dearden added that despite budget reductions Sonora High has not made a single cut to the social-emotional side of the school, i.e., athletics, music, drama or cheerleading.
Dearden admits he has been forced to make some management cuts which places a heavier work load others such as himself. But he states that, "We try and keep that away from the kids as much as possible. I have half of my admin team in the classroom for one period of the day. That means I have to do more but I'm willing to do that if we can keep the cuts away from the kids as much as possible."
Written by bill.johnson@mlode.com