Classes Underway At Summerville High School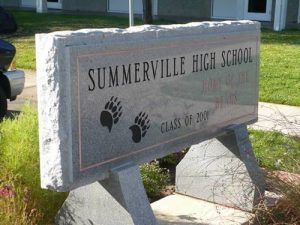 Summerville High School

View Photos
Tuolumne, CA — Summer officially ended for Summerville High School students this morning at 7:55 when school started for the new year.
According to Principal Dave Urquhart now starting his 25th year on campus, "We had some hiring to do this year. We added five teachers because we lost that many to retirement. We happy to have these newcomers aboard, not that we're happy to have lost those that retired.
We have about 30-40 more students than a year ago so that's good. We're probably at about 670 total students. We had an orientation and a bar-b-que for the students and their families yesterday and that's always fun to get people ready to go."
Asked about the effect of state budget reductions Urquhart commented, "About the only difference will be class sizes … they will be fuller. We were not able to hire extra sections for classes to lower the load in each particular period. Our classes are full and that is where we will probably notice it the most.
We still have the rest of the programs, we still have our fine arts program, our athletic program. We actually still have a late bus run which goes home after practices are over. But some people have fewer hours to work and the classes are fuller. That's the impact we've seen."
Written by bill.johnson@mlode.com