Angels Council To Discuss Downtown Park Expansion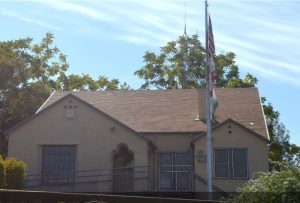 City of Angels City Hall

View Photo
Angels Camp, CA – A planned expansion of Utica Park in downtown Angels Camp may tap state funds to purchase adjacent land.
On the regular agenda at Tuesday's City of Angels Council meeting is an action item to approve the filing of a Proposition 68 grant funding application in partnership with the Angels Camp Community Club for a planned Utica Park Expansion and Rehabilitation project. The submission is due into the state by Aug. 5 and does not require any matching funds.
Back in April, the council gave go-ahead to prepare a proposal seeking $254,942 and hired a consultant grant writing team for a flat fee of $6,000 to do community outreach, gather ideas for park design.
Based on input to date, among the most popularly identified improvements: a multiple-age playground; outdoor stage; skate-park; adult outdoor gym equipment; bocce, basketball, and volleyball courts: improved horseshoe pit. Other possible amenities might include bicycle facilities; improved lighting and bathrooms; expanded parking; a hydration station; extended trail; dog park; interpretive mining plaques; a water feature; art in the park; snack shack/vending/food trucks; special events.
Given the ideas, the application team approached and secured a verbal agreement to a parcel owned by Rasberry Properties. If funded under Prop 68, the council would later need to decide whether to approve the land acquisition, which would add just under four additional acres to the existing 2.6-acre park.
Tuesday's meeting opens to the public at Angels Firehouse (1404 Vallecito Road) following a 5 p.m. closed session with legal counsel on a matter of anticipated litigation.