Jamestown Man Arrested For Suspected Drug Sales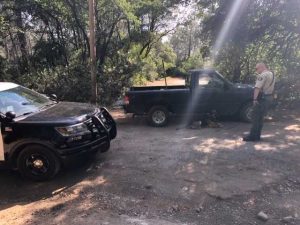 Klass arrest scene

View Photos
Jamestown, CA – A license violation was all that was needed to stop a pickup in Jamestown and what was found inside landed the driver in jail.
As a Ford truck passed by a Tuolumne County Sheriff's patrol vehicle on Monday afternoon along Golden Dove Lane in Jamestown, the deputy noticed the rear license plate was obstructed and pulled the pickup over. Behind the wheel was 56-year-old Charles Klaas of Jamestown, whose license was suspended.
As the deputy glanced through the truck's window, clear evidence of drugs could be seen on the floor board and a search ensued.  In all, over 42 grams of methamphetamine was found along with more than $1000 in cash.
Klaas was arrested for driving with a suspended license and possession and transportation of a controlled substance for sale. His bail is set at $30,000.