Stack Of Credit Cards Results In Second Arrest For Couple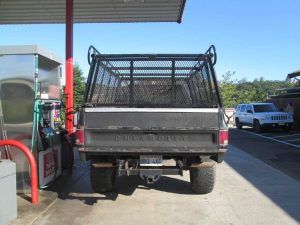 Truck pulled over at gas station in Jamestown

View Photos
Jamestown, CA – Erratic driving on Highway 108 in Jamestown this past weekend got the attention of a Tuolumne County Sheriff's Deputy, who made a traffic stop and discovered a stash of credit cards and drugs inside the vehicle.
Once pulled over at the C&C Mini Mart, the driver of the Chevy pickup, 42-year-old Cali Gibb of Discovery Bay, and her passenger, 27-year-old James Brant of Long Barn, were questioned by the deputy, who ran a records check on the pair. It came back showing Gibb's had an outside felony warrant for ID theft and credit card fraud while Brant was on probation.  Those charges stem from the couples arrest after Brant allegedly tried to cash a stolen check at an East Sonora shopping center in December, as reported here. A search was conducted on their vehicle and turned up a loaded 9mnm Glock handgun and stolen checks among other charges detailed here.
In this latest incident, the two were taken into custody after deputies found drug paraphernalia, methamphetamine, a credit card reader and over 20 credit cards inside their truck. Brant faces credit card fraud and drug sales charges and Gibb tacks on additional credit card fraud charges to her original warrant.