Governor Ends Budget Negotiations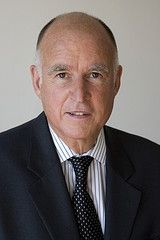 Jerry Brown

View Photos
Negotiations between Governor Jerry Brown and Republican lawmakers hit a wall yesterday.
The Governor has halted talks with the GOP and will now go back to square one. Brown has been trying to convince Republicans to allow a special election in June to let voters decide whether to extend temporary tax extensions.
"Each and every Republican legislator I've spoken to believes that voters should not have this right to vote unless I agree to an ever changing list of collateral demands," states Brown. "Let me be clear: I support pension reform, regulatory reform and a spending cap and offered specific and detailed proposals for each of these during our discussions. While we made significant progress on these reform issues, the Republicans continued to insist on including demands that would materially undermine any semblance of a balanced budget."
Senate Republican Leader Bob Dutton has released a statement reading, "The Governor and legislative Democrats are obviously upset and lashing out at their inability to get buyoff from public employee unions for the reforms that the public supports and Republicans think are necessary to fix California."
Republicans had released a list of over 50 demands, including public pension reforms, relaxing environmental laws and cutting many business regulations. They also hoped to reform the hiring and firing process for state teachers.
"The only thing missing from this list is a pony," stated Democratic Senate Leader Darrell Steinberg at a Tuesday press conference.
Republican leader Dutton added, "Our positions on those issues are remarkably similar to the positions that then-candidate Jerry Brown championed during last year's campaign that returned him to the Governor's Office"
California is facing a $26 billion deficit.