California's Economic Forecast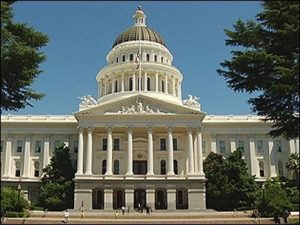 California Statehouse

View Photos
A new report looks at employment trends in the state, and projects how much job growth there will be over the next few years.
The UCLA Anderson Forecast predicts that Proposition 30 will slow job growth next year, but claims it will not derail the state's long-term recovery. The ballot measure will increase the state's sales tax by a quarter of a cent and increase income taxes on earners making over $250K. The economists that compiled the report predict that job growth will be up by about 1.8% by the end of this year, increase by 1.4% in 2013, and then grow 2.2% in 2014. They expect the growth in 2014 to be related to a rebound in residential construction.
The unemployment rate is expected to average 10.5% by the end of this year, drop to 9.7% in 2013, and 8.4% in 2014.
The UCLA Anderson report is issued quarterly, and designed to be a snapshot of California's economic climate. The report, based out of UCLA, claims to be one of the most accurate nationwide in predicting state and national job growth.