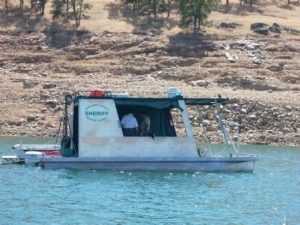 Boat Patrol At Don Pedro

View Photos
Sonora, CA – The highest percentage of accidents on lakes and other waterways occurs around the Fourth of July, according to the State of California.
"The need for boaters to become familiar with the rules of the water is critical in ensuring a safe boating experience," says Lucia Becerra, Director of the state Department of Boating and Waterways. "Rules such as steering to the right when approaching another vessel head on, is important to know, especially in crowded waterways."
The lakes and reservoirs are always a popular spot this time of year in the Mother Lode.
"There's going to be a lot of people on all of the local lakes," says Sgt. Jeff Wilson of the Tuolumne County Sheriff's Office. "Unfortunately, many people may be drinking and not operating at their best level. People need to take this into account. Also, people who are driving the boats are not allowed to have alcohol in their system."
The Department of Boating and Waterways has released the following reminders:


Avoid alcohol. Everyone who drinks alcohol on board is at risk. Passengers can easily fall overboard, swim near the propeller, or cause the vessel to capsize. (It is also illegal to operate a boat while intoxicated)


Operate your boat at a reasonable speed. Boats do not have brakes. The stopping distance in emergencies can be critical.


Properly use water ski flags when skiers, wake boarders or tubers are down. Improper use of flags can be dangerous not only to the person in the water, but to the passing boat where its propeller when become entangled in the tow rope can result in a deadly accident.