Two Nabbed For Credit Card Thefts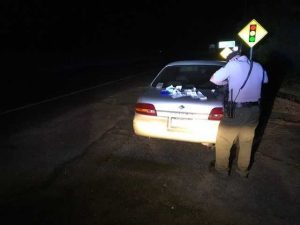 Arrest site on Tuolumne Road in Sonora

View Photos
Sonora, CA – The use of a stolen debit card at a Sonora fast-food joint, and erratic driving, landed alleged thieves behind bars.
A Sonora resident was surprised and relieved when a call came in from a Tuolumne County Sheriff's Deputy Tuesday night relaying their debit card had been found. The card's owner told the deputy they had lost it earlier that evening and charges were already popping up on their account. The deputy got a hold of the card after making a traffic stop on Tuolumne Road in Sonora on a Nissan Altima for erratic driving and having an obstructed license plate.
Behind the wheel was 31-year-old Brittany Ware of Modesto who had a suspended license due to a prior drunk driving conviction. Ware agreed to a search of the car, which uncovered the card and paper receipts of fraudulent purchases. A passenger, 46-year-old Eric Rubio of Manteca, admitted to finding the debit card and some cash and using it to buy food.
An additional debit card belonging to a Modesto man was discovered on the vehicle's floorboard. Inside Ware's wallet was a bank slip and the PIN number for that card. The couple was arrested for theft and conspiracy with each on a $20,000 bond.