A New Trail To Explore In Yosemite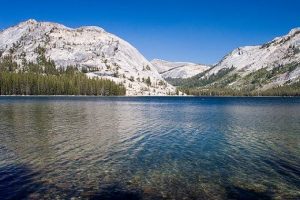 Tenaya Lake At Yosemite National Park

View Photos
Yosemite, CA — Park officials say the Tenaya Lake area is the focus of this restoration project.

They say crews are already working on moving the entrance, putting bridges over creeks and rerouting certain parts of the trail to make it more accessible to all, even those in wheelchairs. Also, the path will be well marked to keep people on the trail and out of sensitive wetland areas.
Yosemite Conservancy is giving $1.7 million to restoration project. Conservancy President, Mike Tollefson says, "Tenaya Lake has a captivating natural beauty that charms park visitor's young and old alike." He adds, "Those coming to the east beach area will have an even better high country lake experience as a result of the restoration efforts made possible by our donors." The money will also go for plants to replenish the wetlands and added picnic areas.

Tollefson says nearly one million visitors come to the Tenaya Lake area of Yosemite National Park each year.
To see pictures of the current work being done and get more details on the restoration project click here.