Father Wolf Authors A Book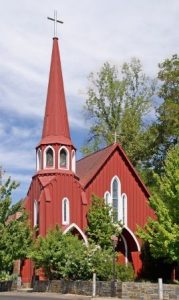 Sonora's historic landmark Red Church

View Photos
Father Wolf of the St. James Angelican Church (the "Red Church") is the author of a book, twenty-five years in the making.
Wolfgang Krismanits was Friday's KVML "Newsmaker of the Day".
Father Wolf has been the Rector of St. James Anglican Church in Sonora for twenty-three years.
Written for all ages, "The Seven Scrolls" is partly a response to the growing need for families to put their faith in a loving God, and for parents to enjoy quality time with their children. He and LaDonn, his wife of 29 years, have four children, Paul, Stephen, Sonja and Summer; and two grandchildren, Jacob and Sonora Grace.
According to Wolf, "My initial inspiration to write this book came on a cool, sunny day walking on a beach in Southern California more than a quarter of a century ago. It was a pleasant walk with my wife and first son, Paul, who was not quite two years old. Catching sight of a large congregation of seagulls receiving morsels from an aged admirer, our toddler was filled with excitement and dashed toward them, screaming, "Dak! Dak!" I can only imagine that Paul saw a resemblance to Ernie's duck on Sesame Street.
Immediately, Richard Bach's Jonathan Livingston Seagull came to mind. Wouldn't it be fun to write a book about a seagull that would captivate the imagination of young children? Eventually, I developed a story about an adventurous seagull with an attitude who had a penchant for getting into trouble. In time, the story evolved as God worked on my heart and mind to make this more than just a children's tale. Eventually, the seagull, Dak, although still important to the story, faded into the background as other characters emerged as more central and critical. The story began to take on a new dimension, a fresh feel and a greater purpose.
The reader may wonder why it took more than 25 years to write this book. Raising four children and being in full-time ministry had something to do with that. I still tease people, saying that this is my Mr. Holland's Opus. Those who have seen the movie will know what I mean. Yet, there were several years in the mix during which I did not work on the book at all, not for a lack of time found, but for a lack of direction and motivation. These were years during which I, myself, underwent a great deal of change, partly due to personal issues, but mostly for the stormy weather that was tossing about my beloved Church and threatening to undo her.
Several crucial issues faced us during those years. The one, however, that was central to all the agony and frustration, and still remains at the center of the Church's struggle today, is the question surrounding the authority and authenticity of the Holy Scriptures. Is the Bible the inspired Word of God-or is it not? Does it contain all truth or is it merely a guide for better living?
As I fought on the side that claimed authenticity of the Bible, I found myself being inspired to change the direction of my book. So it is that The Seven Scrolls came about, and it is to these vital questions on authority and authenticity that this book is now dedicated.
This book, then, has evolved into an allegory about our Church today. Yet, it must be said that one can enjoy the story without any knowledge of its premise, nor any realization of its underlying Christian themes. Anyone can read this as simply a fun adventure-a classic tale of good vs. evil-to be enjoyed by young and old alike. No one need to be a Christian to read it, and no one need to feel that they are being asked to believe if they do read it.
As a final note, at the end of the book the reader will find a set of questions for each chapter. These are purely optional, yet designed to be of a personal help to the reader or to parents who wish to delve more deeply with their children into the many life and faith lessons brought up by the story. I had always hoped that, however the story developed, this book could be a vehicle for encouraging the young to read and a help for their parents to be more positively engaged in their lives.
I only hope and pray that The Seven Scrolls will bring the reader some joy and wholesome entertainment at a time in which we could all use some light-hearted adventure and a hope for a better world filled with courage and faith."
The book, The Seven Scrolls: Sword of Pantok, is the first part of the adventure. It is available at Mountain Home Gifts in Sonora and at the Red Church Thrift Shop. More information can also be found at http://www.thesevenscrolls.com
The "Newsmaker of the Day" is heard each weekday morning on AM 1450 KVML at 6:47, 7:47 and 8:47am.