911 Call From Candy Rock Calls Attention To Recreating Dangers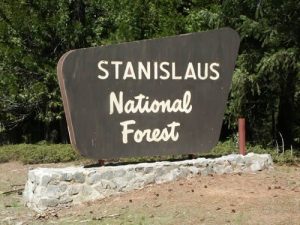 Stanislaus National Forest

View Photos
San Andreas, CA — Four hikers who recently hiked down the steep Candy Rock trailhead to the North Fork of the Stanislaus River are helping provide a cautionary tale of what not to do, sheriff's officials say.
Calaveras County sheriff's spokesperson Sgt. Greg Stark shares that his office had to activate its Search and Rescue Team after receiving a 911 call from that area this past Saturday evening. Also dispatched were the Tuolumne County Sheriff's Search and Rescue team and Ebbetts Pass Fire Department.
Noting that water levels in that area fluctuate due to snow runoff and other controls on the river, Stark recounts that the four originally swam over during the early morning hours.
"Throughout the day the water level rose, creating a hazard for them to swim back across and one person was able to do so and…hike out and activate 911 using a cell phone," Stark continues. "The other three walked downstream to an area that was more suitable, however not safe to cross…they chose to cross on their own, swam to the near side of the river, and eventually walked themselves out."
In addition to sudden and often significant fluctuations in local waters, Stark reminds folks that the runoff water flow is very cold, which makes swimming even more difficult and hazardous. "We recommend that everybody wear a lifejacket, swim in pairs — always tell somebody where you are going — and don't take the low water levels for granted because they can change at a moment's notice," he advises.
As reported here, following the accidental drowning of a solo camper who was camping near the popular Candy Rock swimming hole, Sheriff Rick DiBasilio shared his thoughts about the area and the need for extreme caution not only at that site but when recreating by Mother Lode rivers. His office is currently offering a lifejacket recycling program.
He adds, "The Candy Rock area has very poor cell service that is…accessible [to recreaters and first responders both] only by a one-mile walk-in…so it is incumbent to be even more mindful of the safety precautions in the area."