Active Week For Sonora Police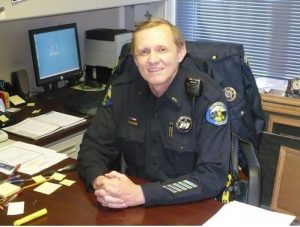 Sonora Police Chief Mark Stinson

View Photos
Sonora, CA– It's been a busy week for the Sonora Police Department, but luckily no major incidences were reported, according to Police Chief Mark Stinson.

Stinson was Friday's KVML "Newsmaker of the Day".

"Roundup weekend went rather well for us this year," said Stinson. "We saw a large decline in incidents this year.
"No one was arrested for public intoxication during the parade and we had no reports of fights. During the rodeo, public intoxication arrests were down but drunk driving arrests were up."
During the Amgen Tour on Wednesday, Stinson noted that there were no arrests made for public intoxication. However, Stinson added that it's difficult to compare the two events as the weekday crowd for Amgen was much less than those who showed up for the Round-Up Parade last Saturday.
Stinson continued, "We did have some difficulty during Amgen, as a number of volunteers didn't show up to help on Wednesday. My officers were stretched very thin. 
"We're already very short-handed. Looking ahead, we have three open positions (that are funded) that need to be filled. With the ultimate process, it may take up to eighteen weeks to fill those positions. Meanwhile, my officers are on mandated overtime with some officers putting in an extra twenty to thirty hours of work every two weeks."
The "Newsmaker of the Day" is heard each weekday morning on AM 1450 KVML at 6:47, 7:47 and 8:47am.