Update: Head-on Crash On Tuolumne Road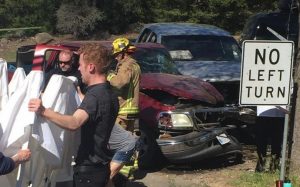 Head-on crash on Tuolumne Road
Update at 5 p.m.: The CHP is reporting serious injuries in a head-on crash between two trucks on Tuolumne Road near Industrial Way in Sonora. A woman was taken from the scene by ambulance to Adventist Health Sonora, and is now being taken by air ambulance to another hospital, according to the CHP, but the destination is not known. They also relay that a man was arrested at the scene for DUI, but his name is not being released at this time.
The wreckage had blocked one-lane of the roadway for about a half-hour as officers directed traffic. A tow crew has since removed the debris and traffic is moving freely.
Original post at 4:30 p.m.:  Sonora, CA –Traffic Alert on Tuolumne Road, emergency responders are on the scene of a head-on crash between two pickups near Industrial Road in front of Sonora Smiles and Premiere Event Rentals in Sonora.
An ambulance has been called to the scene, but currently there are no details on injuries. Traffic is slow going as the wreckage is blocking one-lane of traffic, so motorist are being directed by CHP officers to use the center lane to go around the debris. We'll bring you further details as soon as they come into the newsroom.
A special thank you to our community partner Karen Jensen and David Robinson for sending in photos.