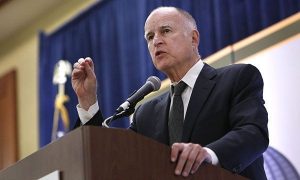 Governor Jerry Brown

View Photos
Sacramento, CA — Governor Jerry Brown will sign California's $96.4 billion budget today.
The Governor will be joined by Senate President Pro Tem Darrell Steinberg and Assembly Speaker John Perez in the Governor's Council Room in Sacramento at 11am. The budget calls for additional funding to some social programs and education. A notable part is reshaping the funding formula for schools to benefit those that serve a high percentage of lower income residents. The Governor's Office has stated that they used "conservative" revenue estimates when formulating this year's budget.
Also today, the Governor will also sign an optional provision of the Federal Affordable Care Act that will expand Medicaid coverage to approximately 1.4 million low income residents.