Brown & Obama's Water Draft Plan By October 1st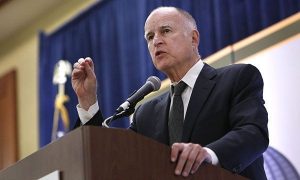 Governor Jerry Brown

View Photos
The State of California and the Obama Administration agreed to a formal deadline of October 1, 2013 for the release of the draft Bay Delta Conservation Plan (BDCP) and accompanying environmental documents for public review and comment.

Governor Jerry Brown was Tuesday's KVML "Newsmaker of the Day".

The BDCP will enable the state to make significant progress toward achieving the co-equal goals of securing California's water supply and restoring the Sacramento-San Joaquin Delta ecosystem.

"One calamitous storm or natural disaster-driven by climate change-could jeopardize the entire Delta, destroy its ecosystem and cut off water to 25 million Californians," said Brown. "This agreement with our federal partners moves us another step closer to being more prepared for an uncertain future in California."
Completion of the proposed plan and accompanying Environmental Impact Report/Environmental Impact Statement (EIR/EIS) is the culmination of more than six years of user-funded water planning and study. After considering public comment, the state and federal agencies will complete the review process and determine the most appropriate ecosystem conservation and water conveyance plan for adoption and permitting.
"It's important that we continue to take an open and transparent approach as we evaluate this proposal to strengthen California's water security and restore the health of the Delta," said U.S. Interior Secretary Sally Jewell. "This is an aggressive deadline to issue the environmental analyses for public review and comment that will require a great deal of important work from both our state partners and the Administration. But with California's water system at constant risk of failure, and the continuing impacts to imperiled fish, we can't afford the dangers or costs of inaction."
The BDCP establishes a Habitat Conservation Plan and a Natural Community Conservation Plan to restore and manage the fragile Sacramento-San Joaquin Delta ecosystem, which is the main water supply conduit for 25 million people from Alameda County to San Diego County and large parts of California's agricultural economy. The BDCP is part of larger state and federal efforts to bolster water conservation, storage and water sources to help meet the water needs of California.
In July of 2012, Governor Brown and former Interior Secretary Ken Salazar announced major refinements to the BDCP and a renewed commitment to completing the project's analysis and planning. Since the beginning of the Brown Administration, more than 300 BDCP-related documents-draft plan elements, supporting analysis, and stakeholder comments-have been made available to the public. In the past two months, several revised and updated chapters of the BDCP have been made public.
The "Newsmaker of the Day" is heard every weekday morning on AM 1450 KVML at 6:47, 7:47 and 8:47am.