Preliminary Budget Plan Includes Layoffs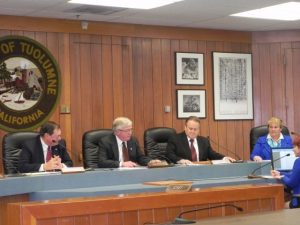 Tuolumne County Board of Supervisors

View Photos
Sonora, CA — The Tuolumne County Supervisors got a look at next year's budget and it isn't pretty. The county needs to reduce spending by approximately $3 million to balance the budget that will start July 1st. Some of that money will come from layoffs. County Administrator Craig Pedro outlined where department heads believe they can cut funding to meet their budgets. (Click here for an earlier story with those details.) He says they are looking at 10 possible layoffs, but that could change.
Pedro says overall, "I think we are doing pretty well at the local level, if we were left to our own devices and our own economy and the state and federal government leave us alone, we could slowly grow out of the challenges that are in front of us. The biggest threat right now is what could come from further state and federal actions."

The board echoed that comment. Board Chair Randy Hanvelt says, "I wish we had options, but we don't have a lot of options short of the State and federal government providing us the funds to do the jobs they charge us to do and they don't do it. You might pay attention when the State says it looks like they're going to have a surplus, they spend it. They don't give it back."
District Five Supervisor Karl Rodefer says, "It's another tough year in a series of tough years. I think if the state takes their money back, they've just unfunded their mandates and we're going to have to figure out how to do that business with what we have left. Also, we need to start thinking about not having Secure Rural Schools funding and it's going to make our jobs that much tougher."
District One Supervisor Sherri Brennan says, "We continue to have things legislated on us and not the ability to provide the service or the protection for the community so the answers is daunting so I think we need to pay particular attention to those positions that have implications to public health and safety." One of those positions Brennan is referring to is the possible loss of the county animal trapper.
Pedro says tomorrow the staff's revenue team is meeting to continue working on the figures as these are just preliminary numbers. The Board will see another budget at its June 18th meeting.
Click here to her to view an earlier story on the budget.