Pursuit Turns Into A Potentially Lethal Situation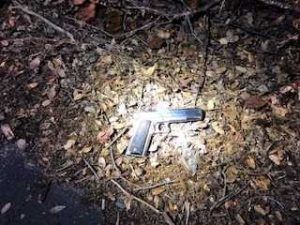 Pistol found in the grass near suspect's car

View Photos
Sonora, CA — A chase that ended with a crash left deputies startled when they realized it could have been a dangerous or even deadly encounter – especially with the evidence found lying in the grass near the wreck.
A Volkswagen Golf with one headlight out and no working taillights traveling down Tuolumne Road resulted in a traffic stop just before 9:30 p.m. on Thursday. A Tuolumne County Sheriff's Deputy attempted to pull the car over, but the driver, 30-year-old Tanya Dunlap of Twain Harte, hit the gas pedal instead. A pursuit began winding about 1.6 miles until Dunlap lost control of the vehicle on Kelley Ranch Road and smashed into an embankment.
The deputy called to Dunlap and her passenger, 43-year-old Jim Stone of Columbia, to get out of the vehicle and to show their hands. Sheriff's spokesperson Sgt. Andrea Benson described the situation, "When she hit the embankment, she kind of drove up on it and almost flipped the car. It [the gun] was ejected at that point. The deputy ordered them to keep their hands up where he could see them. They weren't following his orders and they were down reaching around on the car's floor board."
Once backup arrived, the pair was arrested. A search around the car revealed just how serious the confrontation might have become when a loaded .45 caliber handgun and holster were found near the vehicle. Sgt. Benson shares, "Later on after deputies found a gun, in hind sight that may have been what they [the suspects] were reaching for and they didn't find it because it had been ejected, but they didn't know it."
Deputies noticed that Stone was dripping with sweat, leading them to believe he was on drugs and resulting in K9 Maverick to be called to the scene. He sniffed out methamphetamine, drug paraphernalia and additional ammunition inside the car. Inside Dunlap's purse, deputies discovered that a holster had been sewn into it and found separate pistol grips as well.
During questioning, Dunlap admitted that she fled the scene because she knew Stone was wanted by authorities. Her bail is set at $15,000 and Stone's is $10,000.