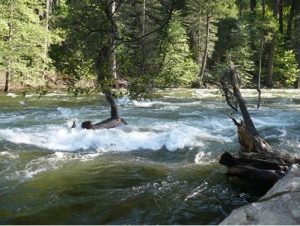 Merced River

View Photos
Yosemite, CA — Yosemite National Park is demonstrating all it takes to keep you safe in the park. Just this past weekend, a Montana man died from injuries sustained in a rock climbing accident at the park. (Click here for an earlier story on that incident.) Also, with this being Memorial weekend, they want to stress safety first to visitors. Today rescue crews are holding a Swift Water Rescue Demonstration Day at the Park.
Park Ranger Kari Cobb says, "Every year we unfortunately do have fatalities in the park. A big majority of those fatalities are individuals going into the rivers and drowning. So what we're trying to do every year is to just let people know how they can avoid becoming a victim."
Cobb reports, although Yosemite only received about 50% of normal snowpack this winter, the Merced River is still flowing at high water levels and can be dangerous. She says many of the river rescues involve the construction of a "highline," which is a rope strung across the river to aid in rescues.
Cobb says the mock rescue, "Is an opportunity to show visitors how to be safe around water and what can happen if you get in the water. We actually put people in the Merced River and then we send in our search and rescue them. It teaches them water safety and what to do if they do fall into a river with a strong current."
The demonstration takes place all day today.