Support Seen For Industrial Hemp; Grows Officially On Hold For Now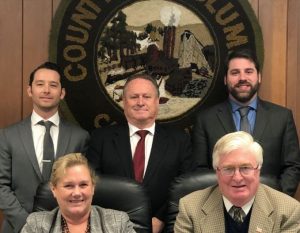 Tuolumne County Supervisors

View Photos
Sonora, CA — While unanimously voting in favor of a temporary commercial hemp grow ban, the Tuolumne County supervisors voiced different reasons for doing so.
It was officially noted during the 1:30 p.m. appointment slot set up to publicly hear and discuss approving an urgency ordinance allowing the moratorium that no one from the public showed up to speak for or against it. However, staff noted one person who weighed in via email opposed the move adding that he anticipated growing industrial hemp.
Since the Fed declassified hemp as a Schedule 1 and the State of California is legalizing commercial grows under regulations that are still in development for federal approval, jurisdictions across the state are grappling between enacting local laws while the process plays out. Since there are only rudimentary state regulations currently in place for its hemp program, legal grows could crop up in zones allowing any kind of agriculture as long as they are locally registered with the agricultural commissioner, are more than one-tenth of an acre in size, and are properly posted. However, THC levels must be tested and certified as within legal range for growers to legally harvest.
Board Chair and District 5 Supervisor Karl Rodefer commented, "We are not making a decision on allowing industrial hemp, we are making a decision about whether we need to take a timeout. We all have different knowledge bases or think we do…Here is my concern, industrial hemp in some applications has significant value to being grown. What I don't want is…putting a moratorium place with the intent of it really becoming a long-term ban."
Continuing on the topic, he stated, "We owe it to our staff…not just whether we want them to work on this or not but how it fits into the priorities that we have set. We want to have staff come back in first 45 days with work plan/analysis to demonstrate how long [getting to a permanent ordinance] is going to take."
Lamenting Regulations Still Lacking 
District 1 Supervisor Sherri Brennan, who supported slow-going steps towards any regulatory ordinance, pointed out that the county needed time to do its due diligence and wait to see how state regulations rolled out. "There are no approved pesticides for industrial hemp…no regulations for sampling, protocols, or labs for testing THC levels," she maintained. She also argued, "There are multiple pieces to this as we move forward…I don't want to open this do if we don't have the vehicle to enforce it."
Weighing in, District 4 Supervisor John Gray queried, "The cost of enforcement is going to be really important. Who's going to do it and how much does it cost?"
District 3 Supervisor Anaiah Kirk expressed caution due to legal uncertainties with the state's regulatory plan, which once complete, still requires federal approval.
Asked for his input, Sheriff Bill Pooley emphasized, "Taking our time and getting it done right the first time is the way we should go."
Acknowledging the differing information and knowledge gaps evident from the staff presentation through the board discussion, District 2 Supervisor Ryan Campbell spoke in favor of the moratorium mostly due to county staff's request for more time. But, he stressed, "Government should not be impeding fair enterprise…it is not a drug and the Fed and state have agreed it is legal. So it is on us to get our ducks in a row…and to hopefully do in a relatively short time period."
On May 5, the board will decide whether to extend its urgency ordinance on the moratorium, which it can legally continue for a maximum of 22 months and 15 days.