Sheriff's Office To Rent New Space For Various Operations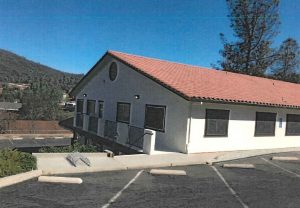 Cedar Ridge Site

View Photos
Sonora, CA — The Tuolumne County Sheriff's Office has been using older and outdated buildings for things like General Investigations, the Civil Coroner Branch, Patrol Division and Evidence.
One building is located at 400 North Washington Street and there are two small offices on Elm Street. Sheriff Bill Pooley asked the supervisors to approve moving all of those services to an office in the Sonora Hills Business Plaza at 19890 Cedar Road. Commenting on just a couple of the problems at the existing sites, Pooley stated, "The walls are actually seeping water, and we've lost evidence on drug cases because we can't do the simple things like keep water out of our building. Additionally, when we book drugs, and what not, into evidence, we get fumes and that type of thing. It's not properly ventilated. What ventilation we have goes up into the ceiling, or floor, between patrol and evidence, and when you turn it on, it makes the whole building smell. We have an issue with that."
The new Cedar Road location rent will cost the county approximately $55,000 more per year than the existing three sites ($67,700 versus $123,600). The new location will also cost an extra one-time expense of $110,000 to remodel the site. The supervisors approved the new location with a 5-0 vote.
Pooley noted that remodel fees will come from his budget and will be offset by current vacancies and delaying things like some new vehicle purchases.