County Upset Over Yosemite Plan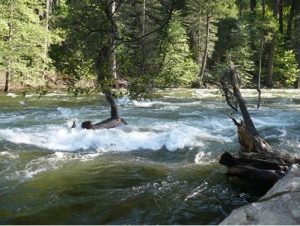 Merced River

View Photos
Sonora, CA — A debate continues regarding Yosemite National Park's controversial Merced River Plan.
Today the Tuolumne County Supervisors voiced out against proposals included in the plan, and voted 5-0 to send a letter in opposition regarding the park's preferred alternative. The NPS proposal calls for the removal of the Sugar Pine Bridge, Yosemite Lodge swimming pool, bike rentals, day horseback rides, the ice rink, and many services currently available at the Merced Lake High Sierra Camp. It is in an effort to return Yosemite closer to its native state, and increase environmental protections.
"We need to maximize the access and experience," said Board Chair Randy Hanvelt. "Taking away things like the skating rink, swimming pool and horseback riding bothers me, but the concept of taking away the bridge is inexcusable. In this county, if we had that bridge someplace, and we suggested taking it out, I think we'd have riots in the street."
The Sugar Pine Bridge was constructed in 1928, and is slated to be removed in order to enhance the free flowing condition of the river. The board stated it wanted to submit a more pointed letter, than the one that was initially drafted by staff members.
District Four Supervisor John Gray supported the letter, but did give a word of caution. "This (Merced River Plan update) is something that is being done by court order," he said. "The Park Service was sued over the previous Merced River Plan, and it had to change. It is obvious that there is going to have to be some sort of balance for the park in order to operate."
District Three Supervisor Evan Royce then floated the idea of the county using legal action of its own with these types of matters. "I think we need to learn as a board to take a stand legally in some cases," he said. "I don't know if this is a case for that or not. But as a big picture thing for us, I think that this is a process we haven't engaged in, and I think we have some authority and power that may get results beyond what we are able to accomplish with merely a letter."
The public has until April 18th to comment on the proposed Merced River Plan. The National Park Service prefers what is called "alternative five." The county prefers "alternative six", which has the least amount of changes, as well as calls for the expansion of campsites and facilities. Alternative five calls for a maximum of 19,900 visitors per day, and alternative six would allow 21,800.