Revitalizing The State Parks Department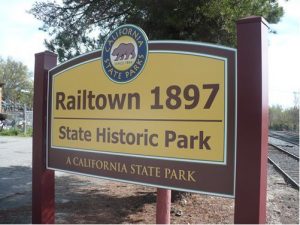 Railtown 1897 Sign

View Photos
Sacramento, CA — Recommendations have been released following a year long study that began after the parks department said 70 of the 278 parks in the system could close.
The recommendations will directly effect Railtown 1897, one of the parks that was on the closure list. Following the discovery of unspent department reserves, the Legislature halted the 70 park closures for two years. The study now recommends parks like Railtown 1897 could be realigned to local or regional control or worth taking the risk on to promote using experimental new management approaches.
The report is titled "Beyond Crisis: Recapturing Excellence in California's State Park System" conducted by the Little Hoover Commission. The study conducted a detailed examination of the state park system and compared it to other park systems and trends throughout the United States and the world.
Commissioner Virginia Ellis, who chaired the Commission's state parks study says, "The results are clear. A great public institution is falling apart. Without a bold, new course equal to the vision that created the state park system, California risks a replay of closing parks that the state can no longer afford to operate."
The Commission identified several chronic conditions that threaten state parks with continued neglect, deterioration and a return to closures if not addressed:
The Department of Parks and Recreation can't generate enough revenue on its own to replace 35 years of reductions in taxpayer support.
The current model of a highly centralized state-run park system is obsolete.
The department's staffing structure is ossified, citing: "The department's management ranks are heavily represented by rangers with law enforcement training…this contributes to a culture of enforcement and protection, and has inhibited the department's ability to adapt quickly to change."
Bond borrowing has expanded the park system beyond the department's ability to
staff and maintain it.
Relationships have deteriorated with many of the park system's most important partners and supporters such as preservationists, those interested in protection and public safety.
The Commission recommended determining which parks serve primarily local or regional needs and then realign them. Specific details were given for creating a detailed department vision statement that would then be codified into law. The report also noted the shortage of park rangers and recommended a generalist ranger who could serve as ambassador and park manager.
Created in 1962, the Little Hoover Commission that did this study, is a bipartisan and independent state agency charged with recommending ways to improve the efficiency and effectiveness of state programs. The Commission is composed of five citizen members appointed by the Governor, four citizen members appointed by the Legislature, two Senators and two Assembly members. For a copy of the report, visit the Commission's website here.