Lake Tulloch Rentals On Agenda Again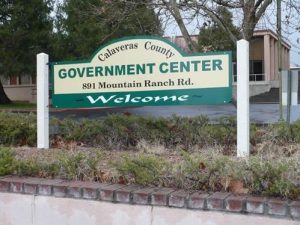 Calaveras County Government Center

View Photos
Copperopolis, CA — Vacation rentals permits and redefining the boundary of Lake Tulloch will be major topics at Tuesday's Calaveras County Supervisors meeting.

Complaints about noise, overcrowding and safety concerns related to vacation homes being rented out to visitors has been a hot button issue. The Supervisors will decide whether to start an administrative use permit program which would require property owners to have a permit in order to rent out homes. They will also look at the maximum occupancy for rentals which would be two people per room, plus two additional people per property, excluding children under three years of age. Also, off street parking must be provided on a ratio of one space per bedroom. Visitors must also obey "quiet hours" between 10pm-7am.
The Board will also vote on sending a letter to the State Assembly in support of Assembly Joint Resolution 9 which urges the US Congress to reauthorize and fund the federal Secure Rural Schools & Community Self-Determination Act.
The letter states, "California's rural counties and rural school districts are facing a severe financial crisis. Unless Congress re-authorizes the Secure Rural Schools & Community Self-Determination Act, Calaveras County will lose nearly $30,000 annually in federal funding. This funding provides Calaveras County with vital resources to go towards funding of programs such as, Search and Rescue on Federal Forest Service Lands and the Calaveras Foothills Fire Safe Council." Click here to view the complete letter.
The Board's meeting starts at 9a.m. on Tuesday in the Supervisors Chambers. There will also be a study session at 1:30 on the 2012-13 mid-year financial report and to get direction on the 2013-14 fiscal years' budget.