Newsom Calling For Drinking Water Tax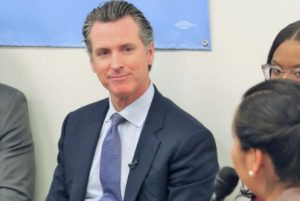 Governor Gavin Newsom

View Photos
Sacramento, CA — Referring to the quality of water in some parts of the state as a "moral disgrace and medical emergency," Governor Gavin Newsom would like to place a monthly tax of up to $10 on water customers.
Newsom says the revenue would be used to clean up contaminated water in low income and rural areas. The plan is expected to face heavy opposition from Republicans, along with some Democrats, opposed to new taxes. It would take a two-thirds vote of the legislature to gain approval. Newsom argues that up to 1 million residents in the state have some type of contaminated or unclean water coming through their taps.
There is also a competing proposal released by Democratic Senator Anna Caballero that would take money from the state's surplus to create a trust fund for water improvement projects.
Newsom's proposal would impact both residential and business customers. The tax would start at 95-cents and increase up to $10, depending on the size of the meter.