Little Faith In Judicial System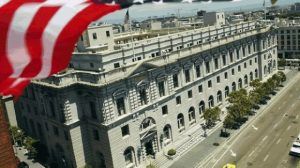 California Supreme Court Building

View Photos
An informal poll this week asked: "Do you have faith in the Judicial System/Branch of Government?" Seventy percent answered No. The other 30 percent had some faith in the judicial system.
The legislative branch of government is elected by popular vote to represent the people and make laws. The executive branch enforces the laws and manages those convicted. The judicial branch is another major component in balancing the power of the government with individuals rights, it interprets the law and provides justice.
Recent dissatisfaction with the judicial system has been with plea bargains. Senator Elizabeth Warren, as a member of the Senate Banking Committee, asked seven regulators when they last took big financial institutions to trial.
Tom Curry, Comptroller of the Currency, and the other with Elisse Walter, chairwoman of the Securities and Exchange Commission said, in effect, they couldn't remember the last time because consent orders, or out-of-court settlements, meant they didn't need to and hadn't.
Warren's statement was "If [big financial institutions] can break the law and drag in billions in profits and then turn around and settle, paying out of those profits, they don't have much incentive to follow the law." Videos of Warren's first hearing with financial regulators went viral, with over a million views.
California has 58 trial courts, one in each county. Tuolumne County and all Superior courts have tril jurisdiction over all criminal cases including felonies, misdemeanors, and traffic matters. They also have jurisdiction over all civil cases including family law, probate, juvenile, and general civil matters.
The process for a criminal case involves a warrant issued for an arrest, or an arrest being made. Then until the first court date a judge decides how to ensure the person will appear in court and may require a certain amount of money or bail. The amount of bail can also be a point of contention with the justice system, the amount of bail is determined by the judge but guidelines are defined in the California Felony Bail Schedule here.
At the arraignment the accused (defendant) is informed of the charges in court and will enter a plea. Then a preliminary hearing determines if a crime was committed and whether or not the person held is likely the one responsible.
Plea Bargaining can occur at any time up until the time of trial. The accused through an attorney, may agree on a plea with the District Attorney without going to trial. Plea barganing is prohibited in many cases unless there is insufficient evidence to prove the case, or testimony of a material witness cannot be obtained, or a reduction or dismissal would not result in a substantial change in sentence. Some details at posted at cdcr.ca.gov.
The court sets a trial date and hearing dates on pretrial motions. At a trial a jury is selected, presented with evidence, and a guilty verdict must be unanimous. Trials can be long and court fees including paying the jurors for their time is expensive.
If a plea deal is agreed on or after a trial finds the defendant guilty the sentencing phase begins. Victims are asked to make victim impact statements, describing how the crime has impacted their lives. The United States Sentencing Commission, a federal agency, publishes guidelines for sentencing. Persons convicted of crimes are assigned "points" for certain factors, including: The amount of loss to victims, whether a weapon was used in the crime, the age or helplessness of the victims. The guidelines also consider a person's prior criminal history. Repeat offenders receive more "points" in the guidelines and thus more severe sentences. More information is here.
Post-Verdict Motions and Appeals can propose numerous legal arguments and negotiations, including a motion for a new trial or ask for modification of the sentence.
More information is here http://tuolumne.courts.ca.gov/criminal.htm
A recent case that was appealed to California's Superior Court involves Walmart's plan to expand its Sonora store by 30,000 feet to build a 24 hour "Supercenter". The issue at hand is whether the Sonora City Council had the legal right to approve the expansion by forgoing a $7,000 special election after Walmart collected enough signatures but did not perform an environmental review.
The appellate court reversed the initial decision and agreed that an environmental study should have been conducted as part of the initiative process. City Administrator Tim Miller says the ruling is in conflict with another appellate court decision, as well as statutes related to the CEQA process and elections code.
Similar issues were raised when Lowe's was proposed. The news story from 2005 is here.
The group that took Walmart to court is the Tuolumne Jobs and Small Business Alliance. They have stated that they are against Walmart's expansion because it will hurt union-wage grocery jobs in the area and shut down local businesses. In the end this lawsuit will not forbid Walmart to expand for that reason, but it may require Walmart to go through a process that will be expensive and take longer.