Large Sinkhole Emerges Following Sonora Flood Event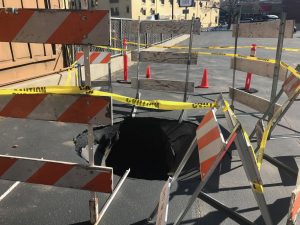 Sinkhole Following Flooding In Sonora

View Photos
Sonora, CA — Over the weekend the City of Sonora learned about another major impact resulting from the heavy rain and hail on March 6.
There is a notable sinkhole in the parking lot behind the Bank of America building at 180 South Washington Street.
City of Sonora Administrator Tim Miller tells Clarke Broadcasting, "It was reported Saturday morning, and our crews went out to secure the area later that day, and the city engineer went out to inspect it. The sinkhole is over the city's main drain, which is a rock/slate drain structure that runs kind of diagonal off of Washington Street, from the Opera Hall area, under the beer garden area, across the parking lots, and ultimately ties into the creek along Stockton Road. Apparently it has failed, and that eroded the soil around it, which caused the sinkhole."
Glancing at it by eye, the sinkhole appears to have a diameter of around 5-6 ft. There are cones and emergency tape surrounding it.
Miller says it is unclear at this point how expensive it will be to repair, but he notes that the city will include the damage as part of the state of emergency declaration up for ratification at tonight's meeting. By declaring an emergency declaration, it increases the potential for receiving state funding to make repairs.
Click here to view an earlier story detailing the flooding of March 6. You can also find an earlier story about the planned emergency declaration by clicking here.