Update: Extreme Weather Hits, Floods Areas Around Sonora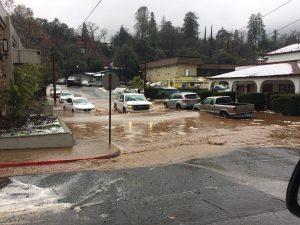 Flooding in Sonora
Update at 5:45pm: Clean up continues this evening following the flooding this afternoon in the greater Sonora area. There are also some phone lines down in Tuolumne County. It is impacting many ATT customers. The Sonora Police Department also reports that they have no 911 line at this time, however, calls are being re-routed to the Calaveras County Sheriff's Department. They will take the emergency information and notify the Sonora PD.
To get a sense of the flooding from earlier today, here is a video submitted by community news partners Jeff and Denise Ecroyd showing a shopping cart floating down Stockton Road.
Update at 3:35pm: Tuolumne County road officials are sharing the latest with regard to road closures and re-openings in the wake of an extreme weather incident that brought sudden rain, quarter-sized hail and flooding to and around Sonora.
Among the current and new closures are Campbells Flat, Bell Mooney, Sims and Red Hills roads.
Rawhide Road at the Woods Creek Bridge has reopened to traffic. Lyons Bald Mountain Road has one lane open with flaggers on scene.
There is also some new video of Woods Creek taken near lower SaveMart by the Tuolumne County Sheriff's Office. Click here to view. 
Update at 3:18pm: Here's the latest with regard to flooding from this afternoon's severe storm incident.
The CHP reported flooding on Jacksonville Road at Stent Cut Off Road and a large amount of hail on Jacksonville Road at Highway 120.
Officers are also responding to Highway 108-49 at the Montezuma Junction by Sims Road for flooding as well as 5th Avenue in Jamestown.
Update at 2:51pm: According to Sonora Police dispatch, closure cones are in place in downtown Sonora on Stewart Street from Williams Street to Gold Street, and at the intersection of Shepherd and Theall and Shepherd and Lyons. Morningstar Drive and Court Street are flooded but there may not be cones up yet and police say there are other areas that still need to close for high water.
West Stockton Road is a travel issue and responders will be either closing part of the road or slowing traffic so it should be avoided if possible. Water has breached from the creek.
Several downtown Sonora businesses with backsides on Stewart Street are experiencing flooding issues and there are limited resources available to get sandbags to them.
A mudslide is being worked on by first responders in the 200 block of Greenley Road by the apartments and another in the area of 1100 South Washington Street coming off the hill.
Click on the video box to view some of the flooding in the downtown area.
Click here to see a second video of flooding in Sonora near the Clarke Broadcasting building on South Washington Street.
Update at 2:36pm: As heavy rains continue under thundering skies, responders are answering multiple calls for flooding and several roads are closed or closing.
The National Weather Service issued a Severe Thunderstorm Warning for Tuolumne County from 1:55 -2:30 p.m. The county is receiving reports of flooding across many routes.
Please do not attempt to cross flooded roads. Residents are advised to shelter in place if possible until the major impacts of the storm pass. Additional impacts include hail up to the size of a quarter, and additional lightning.
Tuolumne County Engineering Manager Tanya Allen reports that current weather  conditions are necessitating several  road closures throughout the county. Please avoid the following areas if possible: Lyons Bald Mountain Road; Campbells Flat Road; Bell Mooney Road; Sims Road; Red Hills Road.
There are reports of people flooded in at the Mother Lode Fairgrounds and responders are being dispatched.
Original Post at 2:10pm: Sonora, CA — Intense rains and hail within a thunderstorm occurring shortly after 1 p.m. have caused widespread flooding in and around Sonora.
According to Sonora Police Dispatch, which is continuing to receive multiple calls for assistance, downtown Sonora flooding is impacting nearly every intersection. Stockton Road is flooding with water over the bridge at Green Street and water is high in front of the police station.
Sonora Police say a vehicle is stuck in water at Morningstar drive and court. They have additionally closed Stewart Street to Williams and Gold streets and report that part of the hillside is sliding off Hillcrest Drive towards Palemon.
The CHP is reporting roadway flooding on Highway 108 and Sanguinetti Road between Washington Street and at Bell Mooney Road and Highway 108. Branches and flooding are impeding travel on Jamestown Road and Racetrack Road by the gun range. There is also a traffic hazard on Highway 108 at South Washington Street and Lime Kiln Road.
Click into the image box slideshow for storm photos.