Murphys Gearing Up To Celebrate Irish Day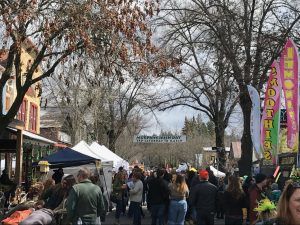 Murphys Irish Day

View Photos
Murphys, CA — One of the biggest single day events in Calaveras County is coming up this weekend in downtown Murphys.
2019 marks the 27th anniversary of the Murphys Irish Day celebration, which will run from 10am-5pm, Saturday, along Main Street.
Michelle Plotnik, chairwoman for the event put on by the Murphys Business Association, says around 160 craft vendors will line the streets, selling a mix of homemade items and Irish themed goods. There will be live music in three different areas, in addition to other entertainers performing shows along the street. New this year, will be an area set aside specifically for kids, with miniature donkeys, pony rides, and performances by the Murphys School of Music.
There will also be a wide variety of food and beverage available, and many of the offerings will be Irish themed.
Plotnik notes that the event has exploded in popularity since its inception 27 years ago. "It started out as a very small parade for kids, and it has grown exponentially over the years."
It is now one of the events that helps further put Murphys on the map as a major destination for tourism. While many of the businesses will see a boost on Saturday, she notes, "We observe that when people come to Irish Day they generally have a really good time, and want to come back and see the town again when things are less busy. They can then wander, and have the opportunity to talk with winemakers and spend more time at the businesses."
In addition, the popular parade gets underway at 11am, and this year it will celebrate Ric Ryan, the Walking Man of Murphys, as the Grand Marshall. The Vietnam Veteran has raised over $125,000 for the organization Operation Mend. Ryan, 72, who had both knees and one hip replaced, embarked on a one-man fundraising campaign starting in 2008, donating 25-cents to the Veterans organization every time someone waves to him during his regular walks around Murphys. People soon learned what he was doing, and it led to more waves, and community donations. Some will pull over to hand him a check, while others donate at Operation Mend collection cans that are now dispersed around town. The gifts have ranged anywhere from $1-$5,000.
Another highlight of Irish Day is the pre-event pancake breakfast from 8-10am at the First Congregational United Church of Christ at the intersection of Algiers and Church streets.
If you are heading to Irish Day, the Murphys Business Association recommends parking at Ironstone Vineyards on Six Mile Road, as a free shuttle will run every 20 minutes, between 9:30am-5:30pm. Main Street will be closed to vehicles from 6am-6pm. In addition, there is no parking allowed during that time on Church, Algiers, Sheep Ranch, Scott, Jones and Six Mile Road. The Black Bart Playhouse parking lot will serve as a staging area for the parade, and will open for free parking immediately afterwards. When traveling to the event, you must take Highway 4 and not Murphys Grade Road. Handicap parking will be available at the Masonic Hall at 384 Church Street and at the Arbors parking lot at the intersection of Jones and Scott streets.