Tuolumne County Stacks Up Impressive Hazard Tree Removal Numbers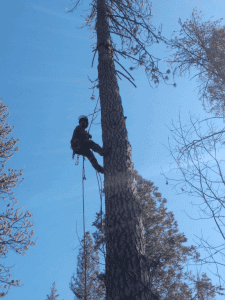 Tree Removal

View Photos
Sonora, CA — The latest tree mortality disaster-related tree removal statistics show Tuolumne County-based efforts are helping lead the pace.
According to County Administrative Officer (CAO) Tracie Riggs, "Tuolumne County has removed the second highest number of trees amongst the counties with Fresno removing the highest number — not bad considering we have 55,000 residents and Fresno has over one million…this equates to resources. Our staff and community have done and are doing a fantastic job."
Riggs shares that the latest tree counts gleaned from January 2019 Local Assistance Tree Mortality (LATM) reported figures show that Tuolumne County government-led efforts have to date led to 12,610 tree removals. She compares it favorably relative to Fresno County's 16,295. Over the same period, neighboring Mariposa County felled 5,239 trees, Amador County 3,025, and Calaveras 2,191.
As far as participating CAL Fire units go, the Tuolumne Calaveras (TCU) Unit felled 7,392 bug-killed trees, the second highest reported results to date, while the Fresno-Kings Unit (FKU) removed 31,262 and the other four units counted between 146 and 2,978. Additionally, other current reported stats include the US Forest Service, which has felled 652,029 bug-killed trees while PG&E counted 447,534; Caltrans came in at 185,000 and Southern California Edison (SCE) at 120,759.
Riggs also pointed to California Disaster Assistance Act (CDAA) overall spending within the county to date. It includes 76 damage survey reports (DSR) to the tune of about $17.1 million, which involved the identification of 31,914 trees. The current estimated removal cost per tree works out to be $536 and the 75 percent CDAA share total is currently around $12.8 million.
For more details about the county's latest related activities and plans, click here.