NWS: Weather Data, Details Behind Sudden Sonora Soaking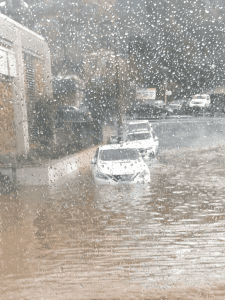 Flooding in downtown Sonora March 6 2019

View Photos
Sonora, CA — Just how much rain triggered this week's flash flooding in Sonora, Clarke Broadcasting posed that question to the National Weather Service.
Sacramento-based NWS meteorologist Hannah Chandler-Cooley noted that over a six-hour period ending around 4 p.m. Wednesday, an official reporting station at Telegraph Hill between Yankee Hill and Phoenix Lake-Cedar Ridge recorded nearly two inches of rain while stations at Columbia Airport and Sonora respectively reported nearly one inch and about a half-inch. For the entire 24-hour period, the stations measured between three-quarters of an inch and just less than two inches.
As far as records go, she shares, the most rainfall Sonora has received on March 6 was back in 1992, when the area logged over two-and-a-half inches over a 24-hour period. Wednesday's sudden deluge was probably the 16th or so wettest for the date.
She maintains, "It was not a record but sometimes it is not the record rainfall that can cause flooding…usually in those records the rain is spread out through 24 hours and when it is spread out over that many hours you are not as concerned about the flooding. When it happens over one, two or three hours, that is when we get…concerned."
As for what triggered the flash flooding, "It was the rainfall upstream of Sonora that came very quickly," she explains. "We have had so much rain recently that some of the grounds are probably still very saturated." She says that thunderstorms in general are often causes for flash flooding, especially in very saturated environments when the atmosphere is very unstable and very wet.
Flooding Unleashed By Uphill Rainfall From Intense Thunderstorms 
Those storms, she emphasizes, "They produce a lot of water in a very short amount of time and there were quite a few small thunderstorms that moved over the general area in that short amount of time…which is also when we can get that flash flooding."
As precipitation continues to soak the Mother Lode, on Thursday the snowpack in the North, Central and South Sierra is respectively measuring at 158 percent, 164 percent, and 161 percent of normal for the date.
With regard to the major reservoirs across the state, they are currently sitting between 91 percent and 138 percent of their historical averages for this time of year with New Melones measuring at that top figure. Melones is now at 85 percent of its storage capacity.
Don Pedro is reading at 117 percent of its historical average and 84 percent full. At 99 percent of its capacity and 114 percent of its historical average, San Luis reservoir is the only one brimming at this point.