Tuolumne County Moving Forward With Interim Economic Development Director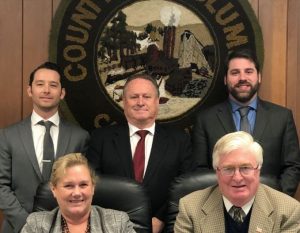 Tuolumne County Supervisors

View Photos
Sonora, CA — With a 4-1 vote, the Tuolumne County Supervisors approved financial details ahead of hiring an interim economic development director.
The move comes following the county's decision to end the TCEDA Joint Powers Agreement. The county will begin the process shortly of seeking applications for the interim position.
Meeting documents note that the proposal to bring someone in for a short-term basis will cost about $53,600 over the three month period finishing out the current budget year (through June 30). It includes $40,500 for salary and benefits, $4,000 for renting a building, $2,000 for mileage reimbursements, $1,500 for travel/entertainment/meals, $1,000 for advertising, $800 for office expenses and $300 for utilities.
Many members of the business community spoke about the importance of having someone available to help businesses with projects already in the development process, and having someone to pick up the phone and answer questions. They also spoke about the benefits of economic development in relation to bringing in additional revenue.
Supervisor Ryan Campbell voted against, noting, "My concern is that we have a job description for this interim director, and we haven't had the chance to sit together as a board and discuss what we'd like to see with this new economic development agency that we'll be creating in the future, and the public hasn't had an opportunity to give input."
Board Chair Kark Rodefer disagreed, and stated, "We have responsibilities to some very significant projects and we just can't abandon them in midstream."
It was noted that it will likely take at least six months to hire a full time director and put together a game plan for the permanent position. Rodefer noted that outgoing TCEDA Director Larry Cope has volunteered to help the interim director during the early transition.