Tuolumne County Supervisors Will Vote On Pay Raises For Many Elected Officials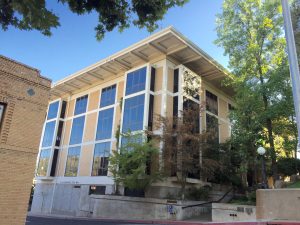 Tuolumne County Government Building

View Photos
Sonora, CA — As part of the response to a local compensation study completed for Tuolumne County in 2015, many elected officials could soon receive another pay raise.
In December of 2015 the board accepted the results of a study compiled by the group Koff and Associates that has served as the basis for labor negotiations since 2016. Salaries for county employees that were more than 20-percent below the out of market rate were increased in 2016 so that the margin was 19-percent, and they were also given a 2-percent cost of living adjustment.
The non-elected positions went down to 17-percent of average at the start of the budget year in 2017 and 15-percent in 2018, along with a 3-percent cost of living increase. It is also noted that negotiations for current labor contracts, within identified classifications, will bring the margins down to 10-13 percent of the out-of-market average.
The positions of Assessor/Recorder, Sheriff, Tax Collector, District Attorney and Clerk/Auditor/Controller have received similar increases, as in 2015 they were found to be below the out-of-market rate by 26-39 percent.
Below are the proposed changes in salaries that will be voted on at Tuesday's meeting: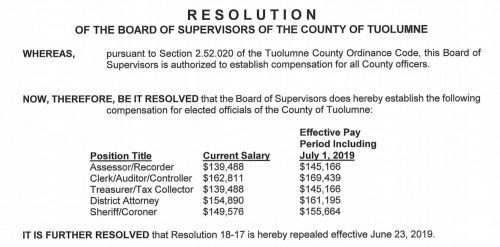 We reported earlier that the supervisors will also vote Tuesday on many of the salary details for an Interim Economic Development Director. Click here to view an earlier story.
The board will also conduct a mid-year budget review. The meeting will begin at 9am.