Planned Local PG&E Expanded Inspections Include Drone Flights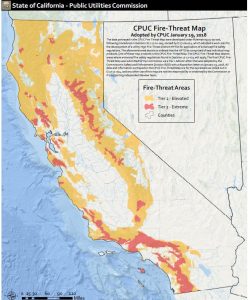 CPUC High Fire-Threat District Map

View Photos
Sonora, CA — As part of PG&E's mandated enhanced wildfire safety protocol, accelerated inspections are rolling out in locations, including in the Mother Lode.
According to PG&E spokesperson Brandi Merlo, portions of Tuolumne County are among the areas at higher wildfire risk so in addition to the utility's routine electric infrastructure inspections and maintenance programs there will be more personnel and equipment involved in expanded activities.
"In addition to ground and/or climbing inspections, we will use aerial imagery captured by drones and, in some cases, helicopters to further complement and enhance the visual inspections," Merlo explains. "We have started the transmission inspections and will begin conducting inspections of distribution poles and substations in March," she adds. Timing of the work will depend on weather among other factors.
"Contract crews will be wearing safety vests, most likely orange and yellow, and always carry photo identification cards and contractors' vehicles will have placards on dashboards," she maintains. Crews of up to four people will perform visual ground and/or climbing inspections, which generally take one to two hours per structure to complete.
For the drone-involved aerial inspections, FAA-certified drone pilots will fly their craft around a transmission tower or pole for about 30 to 45 minutes at a time. The flights will occur along transmission rights-of-way, or already approved access routes. Helicopter inspections will take a few minutes per structure. Officials stress that aerial images taken are in accordance with federal regulations with no people in them.
To the extent possible when it is safe to do so, PG&E officials maintain that crews will not de-energize electric lines for inspections and repairs. In the event of the need to de-energize a line, the utility will follow its standard planned outage notification process to notify customers via letter seven days prior to any planned outages or through an automated phone call or door hanger.
Overall, the utility will be inspecting about 50,000 transmission structures across more than 5,500 line miles and approximately 685,000 distribution poles across more than 25,200 lines in various high fire-threat areas across its service territory.