Farm Bureau Files Latest Water Board Lawsuit Over 'Water Grab'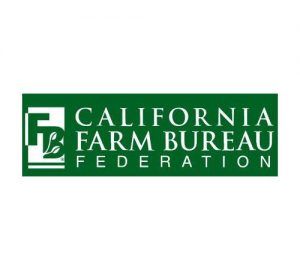 California Farm Bureau Federation logo

View Photos
Sonora, CA – State water regulators under fire for approving what critics describe as a massive 'water grab' are dealing with over a half-dozen related lawsuits, including a new one from the farming industry.
California Farm Bureau Federation (CFBF) officials share with Clarke Broadcasting that the bureau filed its suit late last week in Sacramento County Superior Court. CFBF Environmental Attorney Chris Scheuring says the move is unsurprising, given the size and magnitude of the Water Board's action.
Back in December, as reported here, the board voted to approve its intended phase-one for increased unimpaired flows plan in three San Joaquin River tributaries—the Stanislaus, Tuolumne, and Merced rivers—for the primary purpose of increasing fish populations. The members came to their decision in the face of contested data, alternative mitigation plans, continued protests, and political pressure by then-Governor Jerry Brown and Governor-elect Gavin Newsom to avoid certain litigation through a negotiated solution with stakeholder groups.
Filing For Top Producing Farmers 
"It is a landscape-level regulatory action that is very novel in many ways…lots of legal questions associated with it as well as legal questions," Scheuring comments. While several of the other lawsuits cover farming interests within specific irrigation districts, he says the Farm Bureau is representing the country's top-producing farming region and covering the producers among its 36,000 members located outside those districts.
Chiming in, CFBF spokesperson Dave Kranz shares, "The areas of the Central Valley that would be affected by this plan are among the most productive agricultural regions in the world. Reducing water to those areas would have a variety of cascading environmental impacts…farmers have told us that they would expect to have to reduce…or maybe go out of production, if they don't have that water available."
The Water Board maintains that farmers can perhaps compensate for the loss of surface water by pumping more groundwater. However, as Kranz notes, new groundwater regulations phasing in may reduce the ability. Not to mention that groundwater is an environmental resource that also needs protection. He adds, "So, we feel that the Water Board did not adequately study the impact on the agricultural resources from the plan — and that should be taken into consideration for something as sweeping as this plan would be."
Continuing, Kranz emphasizes, "There are a number of reasonable alternatives to the approach that the board has offered. We need to do more to control predators that eat the protected fish. We need to provide more food and habitat for those fish. We think the board ignored a lot of evidence about the impact that those factors are having — and instead focused only on flows — and by doing that, they produced a plan that doesn't meet the standards of the state environmental laws." He maintains, "The fish do need help but we think there are better ways…ways that can be successful for the fish and also maintain the agricultural and other human uses of water. We think that cutting water to tens of thousands of acres of productive farmland for unlikely benefit to fish is just not the way to go."
Other Lawsuits Involve Mother Lode Resources
As reported here, Tri-Dam Project Partners the Oakdale Irrigation (OID) and South San Joaquin (SSJID) irrigation districts filed suit at Tuolumne County Superior Court early last month with other members of the San Joaquin Tributaries Authority (SJTA), which includes the City and County of San Francisco. Tri-Dam built and maintains senior water rights on New Melones reservoir, the state's fourth largest, and operates and maintains the Donnells, Beardsley and Tulloch projects on the Middle Fork of the Stanislaus River in Tuolumne County.
That same week, the Modesto Irrigation District (MID), which co-owns and operates Don Pedro dam and powerhouse, filed an independent suit with the Superior Court of the State of California for the County of Sacramento, as reported here. Among its claims are that the Water Board's plan would sacrifice a third of the district's surface water supplies.
Of course, while it is impossible to tell what will come from the multiple lawsuits, whether or not they consolidate, Scheuring surmises that — unless there is a negotiated settlement – it will take at least a couple of years for the matter to wind its way through the court system. In that event, the Water Board and involved parties may well see the issue itself flow through the Court of Appeal and perhaps to the State Supreme Court.