Brown, Newsom Team Up Over 'Water Grab'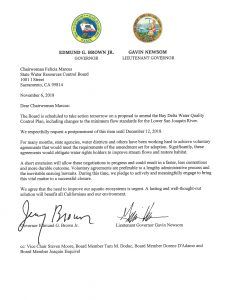 Brown Newsom Letter Nov 6 2018

View Photos
Sacramento, CA — A joint letter by California's outgoing and incoming governors has apparently thrown a monkey wrench into the waterworks of state regulators.
Although the State Water Resources Control Board (WRCB) had been signaling for months that Wednesday it would push through its widely contested plan for 40 percent unimpaired water flows through the Lower San Joaquin River and its tributaries for the supposed benefit of delta fish, it opted to postpone its decision until Dec. 11.
As reported here, the final draft proposal, if implemented, would have far reaching effects, including on the Mother Lode, rendering New Melones reservoir at times useless for recreation because at times its waters could sink as low as dead pool levels.
Governor Jerry Brown, who leaves office on Jan. 7, and Lieutenant Governor Gavin Newsom, who will be sliding into his seat, requested the delay in a formal letter dated Tuesday. He further emphasized during a Wednesday media interview at his office that he intends to use his remaining weeks to push among water users long at war over the Sacramento-San Joaquin river delta for a negotiated agreement.
Both Signal Plans To Help Actively Navigate A Solution   
The letter specifically asked for an extension until Dec. 12 and outlined a pledge for the pair "to actively and meaningfully engage" so that the issues could resolve with "a less contentious and more durable outcome."
The communication pointed out in part, "For many months, state agencies, water districts and others have been working hard to achieve voluntary agreements that would meet the requirements of the amendment set for adoption. Significantly, these agreements would obligate water rights holders to improve stream flows and restore habitat."
It went on to outline voluntary agreements between the board and the various stakeholders would be vastly preferable to lengthy administrative processes and lawsuits that would otherwise inevitably ensue. (To read the letter in its entirety, click into the image box.)
A Stakeholder's Jaded Take
Among the water district stakeholders are Tri-Dam Project owners Oakdale Irrigation (OID) and South San Joaquin Irrigation District (SSJID). OID General Manager Steve Knell, who attended the board's Wednesday meeting, reports that the board did not unanimously approve to delay its decision, voting 3-0 with 2 abstentions.
"It's their view we water districts need to bring a 'compliant' proposal for them to evaluate," he shares with Clarke Broadcasting.
Admittedly jaded in his reply, Knell emphasizes that his district has been among those attempting for months to have the board seriously consider their input, locally gathered scientific data and collaborative alternatives forwards a compromise. Ahead of the meeting cancellation, he said his office was already planning legal action.
Testing Legal Waters
Explaining further, he says, "In the near term, if the State Water Board does adopt this, we will immediately seek a temporary restraining order halting the board from doing anything more," adding that other water managers along the involved rivers are in solidarity.
"[The state board's plan] is not a viable option. We don't want to see unimpaired flow anywhere in California…it is not a way to manage a river or manage resources," Knell maintains. "The whole plan that they have created is just wrong and needs to be rethought with things that have come out with the sciences we have put forward and our proposals — and what the Tuolumne River and Merced River has put forward — we have put together viable plans that produce fish. If you want fish, we can produce fish!"
In the wake of the water board meeting, he says it is yet to be determined if he and his colleagues will re-air already submitted potential solutions or attempt working up something somewhat new. One thing is for certain, he confides: "We need to debrief."