Impacts To Lake Don Pedro Part Of Latest Water Board Lawsuit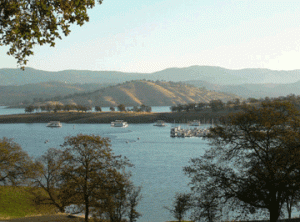 Don Pedro Marina

View Photos
Sacramento, CA — Among the legal actions filed this week over state water regulators' newly adopted plan to pump more water downstream is one that involves Lake Don Pedro.
Modesto Irrigation District (MID) officials say their district's complaint primarily challenges the State Water Board for failing to comply with both the U.S. and California constitutions and the California Environmental Quality Act.
As we reported here Thursday, MID joins many parties, including its partners in the San Joaquin Tributaries Authority (SJTA), pursuing legal action against the board's Dec. 12 approval of its Bay-Delta Phase 1 unimpaired flow proposal.
The plan calls for an increase to 40 percent in unimpaired flows in three rivers with a range of 30 to 50 percent between February and June for the stated goal of protecting fish. Such flows from the Stanislaus River may largely reduce the operational and recreational capabilities of New Melones. SJTA made its filing at Tuolumne County Superior Court.
MID Makes Independent Complaint
MID, which maintains senior water rights on the Tuolumne River to service its communities, separately filed suit with the Superior Court of the State of California for the County of Sacramento. In it the district maintains that the board's plan will sacrifice a third of the district's surface water supplies.
With specific regard to Don Pedro, its dam and powerhouse, which are co-owned and operated by MID and Turlock Irrigation District (TID), facilitates irrigation water deliveries for more than 2,300 agricultural customers and electric service to 121,000-plus homes and businesses. In addition to supporting the river's ecosystem and providing storage capacity for flood control and supplies during drought years, Don Pedro is locally a major recreational draw and part of the water supply for Lake Don Pedro Community Services District.
MID officials emphasize that the district's filing is in tandem with continuing to seek with its Tuolumne River partners a collaborative and durable solution comprised of both flow and non-flow measures. MID Board Vice President John Mensinger maintains, "Our voluntary agreement to ensure water security and reliability includes environmental improvements, enhancements to fish populations far beyond what is projected in the state's current plan and most importantly, guarantees timely implementation."
To read more about MID's suit, click here. Clarke Broadcasting reached out for comment from Water Board officials and are awaiting a response.