DWR Calls Snowpack Levels Encouraging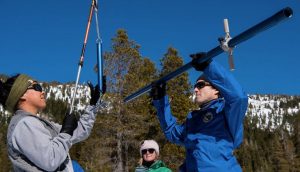 Second manual snowpck reading near Lake Tahoe

View Photos
Sonora, CA – A boost from January storms helped to push the Sierra Nevada snowpack to 100 percent of average to date and storms blowing in this weekend are expected to drive those figures up.
The California Department of Water Resources (DWR) conducted its second manual snowpack reading at its Phillips State near Lake Tahoe Thursday. It showed 50 inches of snow depth and a snow water equivalent (SWE) of 18 inches, which is 98 percent of average for that location. Statewide, the Sierra snowpack is 100 percent of average. DWR spokesperson John King remarked, "This is a significant increase since the last survey where we just measured 25.5" depth and 9" of SWE. It's very encouraging and we still have two more months to accumulation the typical maximum snow accumulation. So, this is encouraging."
By comparison, at this station last February measurements were 2.6 inches of SWE and 30% percent of average. While DWR officials acknowledge that this is a good start, they say the next two or three months will determine what it means for reservoirs and the overall water supply. DWR spokesperson Chris Orrock is hopeful this weekend's storms will hike the numbers, "We're going to see some good precipitation and snow down to lower levels that will increase our total as we go through. So, even though we are coming out of a warm, dry spell the last week that high pressure zone has gone away and we're bringing in some good weather to increase our snowpack."
Although a three-year drought emergency ended in 2017, DWR officials still urge the public to continue water conservation efforts. Below are  the current conditions at the state's reservoirs.