Last Weekend In January Events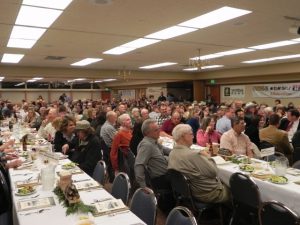 Dinner at the Elks Lodge

View Photos
The first weekend of February is packed with events including the Annual Frank Salel Superbowl Breakfast, but this weekend there are only a few events.
Friday is the first ever Parkinson's Disease Forum by the Ronald and Krishna Hamilton Parkinson's Foundation, UCSF Parkinson's Disease Clinic and Research Center and the Parkinson's Foundation. From 11 AM to 3 PM Parkinson's patients, caregivers, family and friends are all welcome to attend to get information on the latest treatments for the disease. The forum will feature speaker Aaron Daley, MA, of the University of California, San Francisco, Parkinson's Disease Clinic and Research Center, plus medical leaders, specialists and support groups for people suffering from Parkinson's disease will be there.
If you have already RSVP'd enjoy the Friday Night Shrimp Alfredo Dinner at the Sonora Elks Lodge. The meal is served with vegetables, tossed salad, rolls and a surprise dessert. Ticket price and more is featured in our events calendar here.
The event Forrest Sings for Supper will be at Sonora's St. Patrick's Church featuring performer Forrest Marion, who is presenting the event as his senior project. The dinner benefit concert will have a silent auction that will begin at 5:30pm with dinner and entertainment from 6-8:30 pm. Guest performers will be Jazz@8 vocal group, pianist Robert Combs, and flutist Sandra Betti. Ticket information is in our events calendar here.
Saturday night if you have your tickets to the Sonora Odd Fellows Robert Burns Supper, enjoy their celebration of Scottish culture, whiskey tasting, bagpipes and featured works by the poet Robert Burns on display. Details are here.